Prairie Public Broadcasting honors Rickard student in statewide writing contest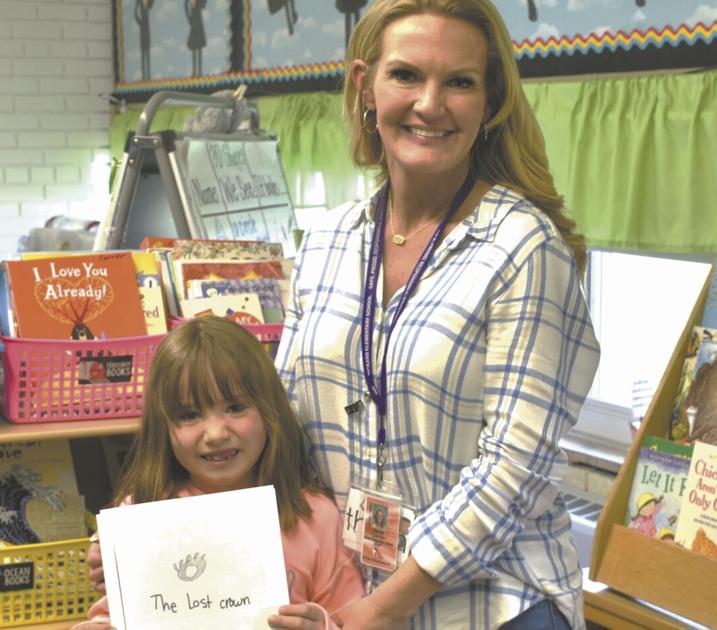 BISMARCK, N.D. – Hot dog! Rickard Elementary student Stella Rossland has been chosen as the statewide winner for PBS' Kids Writers Contest for her story about some playful princess pups.
Rossland is a kindergartner is Maria Carrier's class, who was previously recognized for having students win in 2015 and 2016. The yearly contest from Prairie Public Broadcasting encourages kids from kindergarten through 3rd grade to write and illustrate their own stories to submit. Students write their own original story in 50 to 100 words, with at least five illustrations. Rossland was chosen as North Dakota's winner on May 6 for her story "The Lost Crown." Rossland story shares the tale of Bella and Rose, two princess pups in search of a missing crown.
"I'm just so pumped that she won!" Carrier told the Williston Herald.
Rossland will receive a prize package and certificate from PBS, as well as appearing in a promo on the station and reading her story on Prairie Public's daily radio show, Main Street. Soft spoken and maybe a little shy, Rossland said she was excited that her story was chosen, and for the chance to be on tv.
"I'm very excited," Rossland said. "I've never won something before!"
Even though she doesn't have any herself, Rossland said puppies are her favorite, specifically German Shepherds like the two princesses in her story. Rossland said she loves to write and draw, something Carrier said she feels is very important to encourage.
"Creative writing is the first step, I just think it's a lost art." She said. "With all the technology that comes in to play, I think it's really important. It helps them sound out words and improve reading, along with problem solving and brainstorming. What these kids can achieve is beyond what I could ever imagine. Stella's story is amazing."