11-year-old girl leaves prom in tears after "cruel" parents taunt her for wearing a suit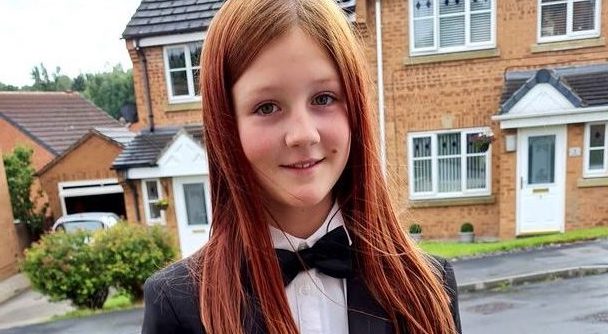 Mischa Parker is an 11-year-old girl who decided to go to her primary school prom at Fountain Primary School in a suit. Even though she was nervous about her outfit, she decided to choose comfort and wore a smart black suit with a matching bow tie. Her night was unfortunately ruined by mean comments about her unconventional choice of clothing. And it was not the kids who bullied her but the parents chaperoning them. As adults, one would expect them to know better and set an example for their children but instead, they traumatized the young girl for her choice of clothing. 
Her mother, Tamara Auty, 33, was shocked by the parents' behavior and said: "I think it was an attack on her individuality, I work in mental health myself and I just think it was really disgusting. When I was 11 I had no idea who I was, but Mischa has always known who she is and what she likes. I'd taken her shopping the day before and she was really excited trying it on. She was a bit nervous hoping nobody laughed at her. I just think that children should be allowed to express themselves – why should my daughter be made to feel bad about the way she likes to dress? Why try and knock a child down for that?"
When Mischa showed up to the party in her suit, her hair and make-up done, her friends showered her with compliments. "She looked absolutely amazing and stylish," Tamara recalled. "She was a little bit nervous but felt really good, she really liked the suit." But then the parents apparently started laughing at her and calling her "suit girl." A few hours later, Tamara got a distressed text from Mischa to pick her up immediately. "Mischa normally not very cuddly, doesn't really show emotion, doesn't really get upset easily," she noted. "She's just quite a strong character. When I got to prom I cuddled her and she just burst into tears and said 'I need to get out of here.'"
She explained to her mom what had happened. Tamara was enraged to learn that the parents were pointing and laughing at her daughter every time she passed by them. "I work with people in crisis, I see people who are affected by bullying and I just think it's disgusting, especially with adults who know better," she stated. "You expect it to be more the kids. If she had gone to prom in a dress she would've been uncomfortable, why should she not be happy? I think she's brave for being who she is. Be who you are and celebrate who you are, don't be torn down for standing out."
Mischa even asked her mother if she should change how she dresses since she usually wears more boys-gendered clothes like hoodies and baggy trousers. "I said no, you be who you are," the supportive mother told her daughter. She is now raising awareness about what happened to her daughter so that it is not repeated with more children in the future.
Congratulations, Micha you looked fabulous! I have also worn a suit and dickie bow to formal events. You go girl, ignore the ignoramus Ed.

Girl, 11, in tears after 'cruel' adults laugh at her for wearing suit to prom https://t.co/qdKOwURkUk via @MetroUK

— Annabel Wells 💙RMN Pro EU No conspiracy theorists (@gracie_red) August 8, 2021
Image Source – WashingtonNewsDay