Father of two paralyzed in head-on collision passes away after fighting for a year – "Daddy's with God"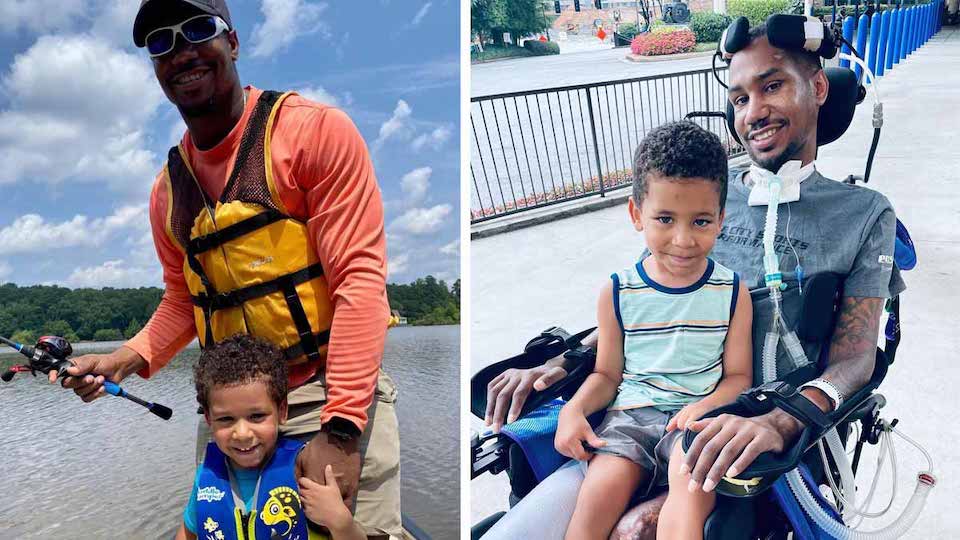 A North Carolina man who survived a horrific head-on collision in August 2020, has died.
Marcel Burns spent more than a year recovering from multiple traumatic injuries, but on December 3 after a long battle, he passed away.
He leaves behind a wife and two young sons.
Around 5 a.m. on August 31, 2020, Marcel was headed to the gym when another driver hit him head-on.
He survived, but he had a long road ahead of time.
"He went through around 37 surgeries, so his body took on a lot," Lorrany, his high school sweetheart, told WRAL. "And every day I would live under pressure. I would have to be on standby with my phone."
Marcel, who was a ray of light and managed to stay positive no matter how difficult the situation, worked hard while in rehab. Finally, after many, many long months he was able to return home to his wife and two young sons.
But his wife said there came a point where Marcel began to lose faith.
According to a GoFundMe set up to help the family, he was "a vent dependent quadriplegic" and required around the clock care at home.
"Tuesday night he said, 'I'm really tired of living like this. I can't hold my kids. I can't be there for you. He was very present,'" Lorrany said.
"It really hurt him that he couldn't be there like he used to be."
On Friday, December 3, Marcel died peacefully in his sleep.
After Marcel's death, one of their sons comforted Lorrany.
"Mommy, don't cry. Daddy's with God, and he's okay."