Costa Rican gymnast Luciana Alvarado took a knee with her fist raised above her head in an effort to promote Black Lives Matter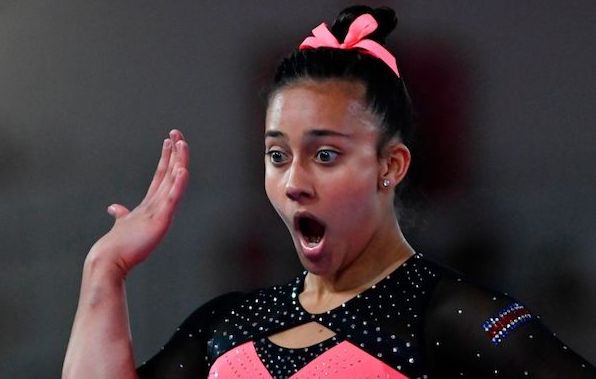 At the end of her floor routine at the 2020 Tokyo Olympics, Costa Rican gymnast Luciana Alvarado took a knee with her fist raised above her head in an effort to diminish America while promoting the far-left group Black Lives Matter.
While speaking to The Associated Press after the stunt, Alvarado confirmed that she was honoring Black Lives Matter.
"Because we're all the same," the 18-year-old gymnast asserted. "We're all beautiful and amazing."
"Alvarado said she felt that if she did 'something that brings everyone together,' it adds to the importance of treating everyone with dignity and respect and recognizing everyone has the same rights," NBC reported while referring to comments made by Alvarado on the GymCastic podcast.
The International Olympic Committee (IOC) has banned political protesting on the podium however protests are allowed to take place before the events. This leaves a big grey area when determining whether Alvarado's stunt was legal or not.
"Because she incorporated the gesture as an artistic element in her floor routine, the governing organization might not be able to enforce any sort of penalty against her."
Women's soccer players from numerous countries have included their own protests, too.
All 22 players on Team USA took a knee to protest alleged rampant racism in the U.S. in solidarity with BLM before their 3-0 loss to Sweden last week. Sweden's players, too, took a knee during pregame.
Women's soccer players from Chile, New Zealand, and Great Britain took a knee before their games, as well.
Star forward and captain for the U.S. women's soccer team Megan Rapinoe stood by the team's kneeling protest.
"We have people from Team USA, from all over the country, from all backgrounds, and people literally from all over the world for every other team so I obviously encourage everyone to use that platform to the best of their ability to do the most good that they possibly can in the world, especially as all eyes are on Tokyo these next couple weeks," she continued.
"We're on the global stage, with the world's media, and eyeballs and people's attention, all drawn to one place with a collection of incredible athletes from all over the world, who care a lot about what they're doing here in Tokyo in terms of their sport, and who care a lot about a lot of other things."