Major issues emerged during North Dakota's 2021 legislative session. Here's a rundown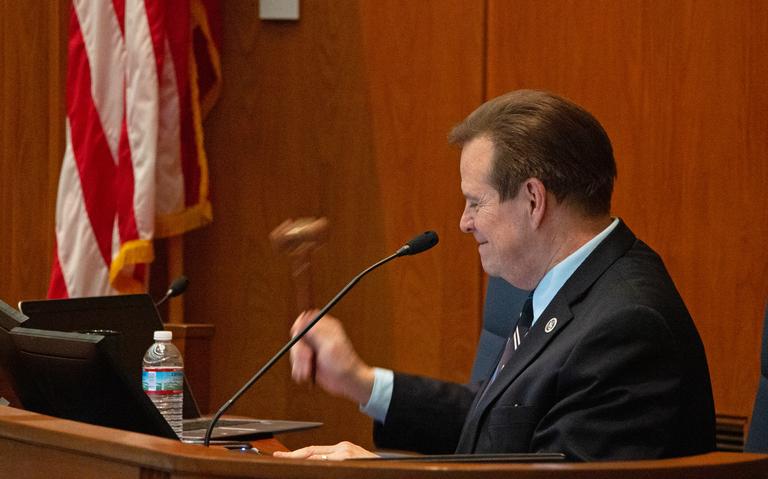 BISMARCK, N.D. — North Dakota lawmakers are heading home after nearly four months of work at the state Capitol in Bismarck.
Both chambers of the Republican-dominated Legislature ended their biennial regular session just after midnight on Friday, April 30, but the effects of the more than 500 laws they made will be felt by North Dakotans for years to come.
Here are some of the major themes and highlights of the 2021 legislative session.
Pandemic reactions
The halls of the Capitol felt strangely quiet and empty during this year's session, save for persistent and combative lobbying from many of the state's anti-mask and vaccine skeptical residents. The strange workplace dynamic meant the COVID-19 pandemic was front of mind for conservative legislators who felt sympathetic toward struggling businesses and disgusted by restrictions on certain behaviors.
Republican lawmakers passed a ban on mask mandates issued by state officials in reaction to a face covering requirement imposed by Gov. Doug Burgum's administration in November. Burgum vetoed the proposal, but the Legislature narrowly voted to override the decision and force the bill into law. And after vocal outcries from constituents, lawmakers approved a limited ban on so-called "vaccine passports" in the final days of the session.
Burgum was proud to sign another GOP-backed bill to shield North Dakota employers from lawsuits by workers who caught COVID-19 while on the job.
Battle of the branches
Prior to the session, legislative leaders openly spoke of the rocky relationship between lawmakers and Burgum, stemming from the governor's handling of the pandemic and his attempts to unseat Republican incumbents as a donor during last year's election cycle.
Besides restricting the governor's office on future mask orders, lawmakers passed a bill that gives them greater control over a declared state of emergency.
The Legislature also overruled Burgum's rejection of a bill that grants a select group of lawmakers the authority to divvy up federal funds that come in between sessions. Attorney General Wayne Stenehjem sided with Burgum, saying the new law may not stand up to a legal challenge. Burgum and the legislative branch have gone to court over a similar issue before, and the struggle for spending power could take them there again.
Harnessing the Legacy Fund
Prominent lawmakers and state officials made it their main objective this session to show North Dakotans that the $8.4 billion Legacy Fund, an oil tax savings account, is working to better their lives.
The Legislature and Burgum approved a $680 million bonding bill that includes $435.5 million for the Fargo-Moorhead flood diversion project and uses earnings from the Legacy Fund to pay back investors.
Lawmakers also passed a bill that sets targets for investing part of the fund in-state and another that divvies up the earnings for spending in future years.
The "trifecta" of Legacy Fund legislation is mostly forward-looking, but lawmakers passed a record $16.9 billion budget that includes federal funding to cover the state's costs for the next two years.
A lifeline for coal power
It was an unprecedented session for North Dakota coal power. Lawmakers looked to prop up the declining fossil fuel industry in response to realigning federal and market priorities that have increasingly favored renewable resources like wind. In one significant move, the Legislature approved a five-year, $100 million "tax holiday" for coal producers. It also laid regulatory groundwork to preserve coal's hold on the North Dakota power grid.
But Republican leadership has said that it sees financial boosts to the coal industry as a temporary fix. Longer-term hopes ride on ambitious aims to cut the coal sector's harmful greenhouse gas emissions through carbon capture and storage — expensive emerging technology that is still unproven at scale.
Among a broad suite of steps aimed at cleaning up coal production, the Legislature approved a $250 million credit line intended to lift Project Tundra, the $1.1 billion carbon capture venture in central North Dakota, over its fundraising hump.
Conservative social issues test Burgum
A handful of bills to promote conservative social values accounted for some of the highest-profile legislation of the session. One proposal to restrict the participation of transgender athletes in K-12 sports became a lightning rod at the Capitol, eventually drawing a veto from Burgum. Lawmakers tried to override the governor's decision but came up four votes shy in the Senate chamber.
Although Burgum axed the transgender athlete ban, he signed another controversial bill to authorize the posting of the Ten Commandments in North Dakota schools over warnings that the legislation would bring lawsuits. As of Friday, lawmakers were still awaiting the governor's decision on another bill targeting his alma mater, North Dakota State University, for its ties with Planned Parenthood. The bill would sanction any North Dakota university that enters into a partnership with an abortion provider.
An unlikely effort to legalize marijuana for recreational use failed in the Senate after passing the House. Conservative lawmakers behind the bill aimed to preempt voter approval of a legalization ballot measure that would take away the Legislature's control to regulate the pot program. South Dakota and Montana voters have already greenlighted legalization at the ballot box, and two pro-marijuana groups are gearing up to put the question to North Dakota voters next year.
A flood of election bills
A national deluge of election bills stemming from conspiracy theories around the result of last year's presidential election hit North Dakota, too.
Lawmakers considered more than double the typical volume of election-related proposals this session, according to the Secretary of State's Office, the vast majority of which were winnowed out over the course of the session.
Among the failed proposals were a major extension of North Dakota's residency requirement for voting, a reduction by half of the state's early voting window and an elimination of the state's no-questions-asked absentee balloting policy, a change that Deputy Secretary of State Jim Silrum said would "disenfranchise tens of thousands of voters."
The expulsion of Luke Simons
For the first time in state history, the North Dakota House ousted one of its own members.
After an extremely tense three-hour debate, the lower chamber voted to expel former Rep. Luke Simons over his alleged sexual harassment of female colleagues and legislative staffers. The Dickinson Republican denied all wrongdoing, saying his accusers were politically motivated.
Republican Rep. Dori Hauck filled Simons' spot, but the incident left some bitter feelings between the majority of lawmakers who voted for expulsion and an ultra-conservative wing of the House, unofficially known as the Bastiat Caucus, that defended Simons.