Garth Brooks and Trisha Yearwood give Jimmy & Rosalynn Carter a vintage car for their 75th anniversary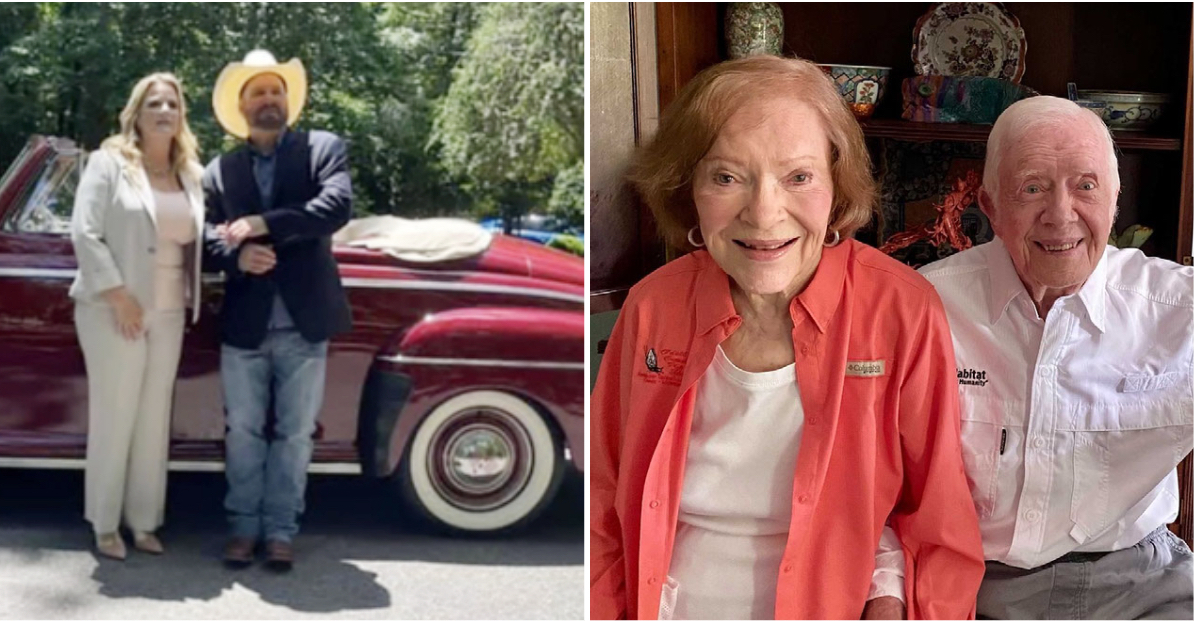 At the age of 96, Jimmy Carter holds an impressive number of records among former US presidents. He's the oldest living US president ever, and with over 40 years since the end of his term he has the longest post-presidency in history.
Another record: he has the longest marriage of any US president, going strong with former First Lady Rosalynn Carter for 75 years.
The couple celebrated the milestone anniversary this month. They reportedly had a party at their hometown of Plains, Georgia, as many friends were eager to wish them a very happy 75th anniversary.
"We have too many people invited," Rosalynn Carter joked to AP. "I'm actually praying for some turndowns and regrets."
The party was held at Plains High School, and included both members of the Carter family and fellow politicians like Bill and Hillary Clinton, according to The Atlanta Journal-Constitution.
But the guest list also included another, less-expected celebrity couple: Garth Brooks and Trisha Yearwood.
Despite being from different generations and career fields, the country superstars became good friends with the Carters through their mutual involvement in Habitat for Humanity.
The home-building nonprofit has famously been a longtime passion for the former president, who has continued to show up and help build houses, even well into his 90s. Brooks and Yearwood have also been involved, and have always been impressed by Carter's commitment to the project.
"You don't expect anything different from the man," Brooks told Yahoo in 2019, after Jimmy continued to work with the charity shortly after an injury. "He's just one of those guys, and Ms. Rosalynn's the same way. They're just those people that you just have to be around to actually believe it."
"[He's] going to outwork you. I'm not being modest here, trust me. I'm not being humble. I'm being honest. He's going to outwork you every time he comes on the job site."
So in honor of the Carters' 75th anniversary, Brooks & Yearwood knew they had to get them something very special… so they bought them something anyone would love to get as a gift: a car!
While that might sound like an odd gift for two nonagenarians, this car had a very special meaning: it was a vintage convertible from 1946, the year the couple were first married.
According to KSBY, the couple selected the car, a customized 1946 Ford Super Deluxe Convertible, with the help of Muffy Bennett, a specialist known as the "First Lady of Collector Cars."
She helped get the car to the Carters' compound ahead of their anniversary, where Secret Service kept it out-of-sight. Bennett tweeted that it was a "delight" to help out with the project, which was known as "Operation Surprise Peanut."
It was a very sweet gift, and the Carters were reportedly thrilled when given the surprise vehicle.
"Bright eyes and big smiles and … very excited time, but there was so much special [about the day] because the people that were here from all aspects of their lives," the Carters' friend Jill Stuckey told People about their reaction to the car.
The Carters have known each other nearly their whole lives. They grew up three miles from each other, and she was friends with Jimmy's sister. "I thought he was the most handsome young man I had ever seen," Rosalynn wrote in her memoir.
They've been through a lot together over these 75 years, and through it all their love has remained strong. At their anniversary party, they said kind words about one another.
"To my wife, Rosalynn," Jimmy Carter said, according to AJC. "I want to express my particular gratitude for being the woman that I chose for my wife."
"I have done a lot of interviews lately and everyone asked me, 'How did you live with that man for so long,'" Rosalynn Carter joked. "But it has been a really wonderful 75 years."