Dad buys ice cream truck for his kids with Down Syndrome so they can all work together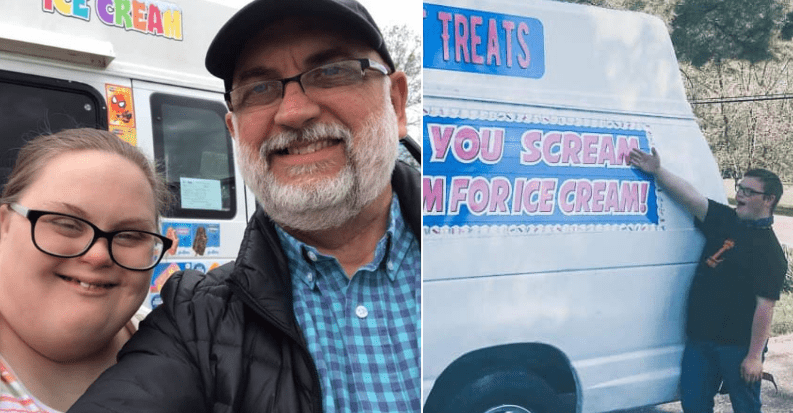 "I wanna work with Papa," his daughter with Down syndrome would often say. So the father bought the truck so that she and his son can learn on the job.
For Joel Wegener and his children, having an ice cream truck in the family is more than just running a business. It teaches his children with Down syndrome valuable life lessons as well as inspires other children with disabilities.
As a father of two children with Down syndrome, Joel understood the limitations of society and how they can hinder the upliftment of people with differences. Hence, he decided to take matters into his own hands and created an employment opportunity for them himself.
Joel bought an ice cream truck in April 2021, from another family in Indiana. His wife, Freida Wegener, gave it the name "Special Neat Treats," and thus, began the family-owned business. Joel's children, 18-year-old Josh and 21-year-old Mary Kate, both with Down syndrome, have been actively involved in making the ice cream truck a popular sight in the streets of greater Cincinnati.
What began as a humble beginning to teach his children financial, communication, and social skills has now turned into a venture that has "exceeded expectations." They have sold about 5,000 units of dessert since the launch in spring. But more than hitting big numbers, the ice cream truck is about giving Josh and Mary Kate a wholesome work experience.
"It's much more than selling ice cream," Joel said. "It's about an experience for everybody, but to give my kids something to do and show other parents maybe there is something creative, out of the box that we can come up for our family and for our kids to do."
Joel, a father of 10 biological children, explained how Mary Kate wanted a job that would allow her to work with her "Papa." And the ice cream truck was a wonderful way to make that happen.
"Mary Kate just finished up at Pathways [a program for individuals with varying abilities] and when people asked her, she's always said, 'I wanna work with Papa,'" Joel said. "But then when we started talking about this ice cream business, it was just a natural [thing] to bring her in and also bring Josh in."
When Joel explained how they go beyond selling ice creams, he said, "On a daily basis we connect with people that care so much about special needs, or they have their own story and to be able to sit in this truck, look out the window and see kids coming screaming and parents bringing their kids."
Months into the business, his son, Josh is absolutely loving the new endeavor. The teenager revealed some of the tricks-of-the-trade his father taught him and declared: "Make [the customers] smile."
"He's told me about waving at them," Josh added. "Because they love ice cream and they scream for ice cream when asking for ice cream."
With plans of expanding the business, Joel and his children hope to add more trucks to their fleet by next summer. More importantly, the family wants to continue raising awareness and showing how adults with disabilities also have great hiring potential.
"No matter what your abilities are," Joel added, "there's something that you can do and you can spread joy and interact with other people."