As North Dakota returns to pre-pandemic life, restaurants grapple with labor shortages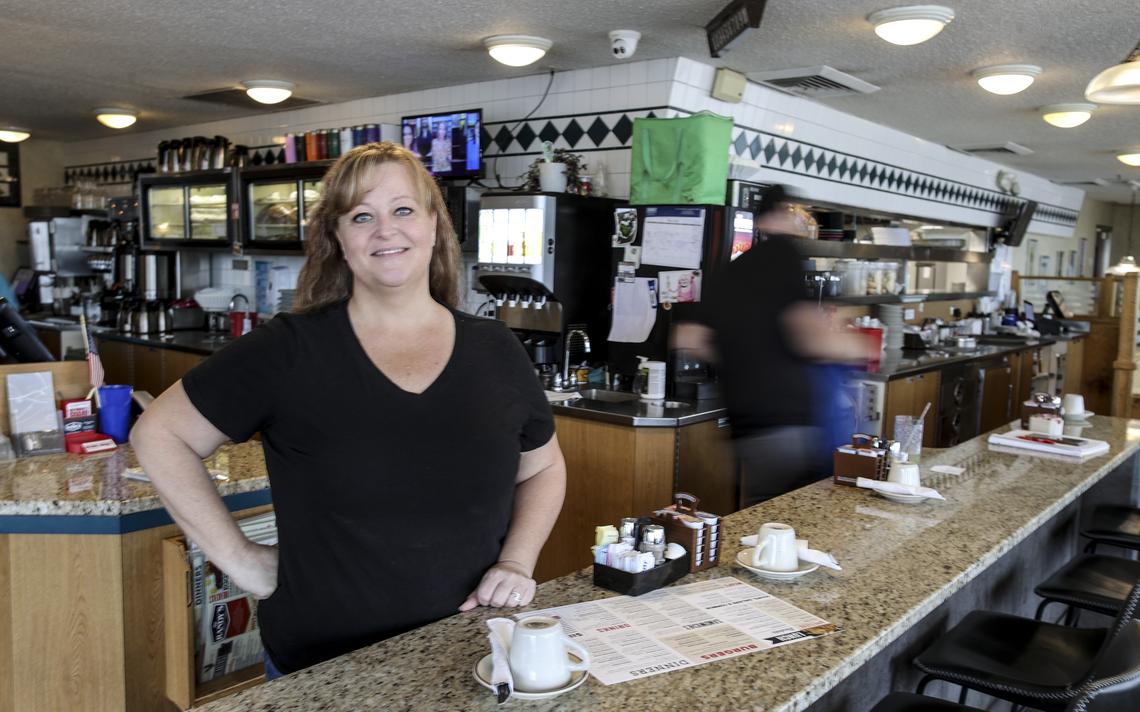 VALLEY CITY, N.D. — For a spring afternoon, the Dairy Queen lobby at 909 Central Ave. N. in Valley City sits inauspiciously empty.
Despite the buzz of baseball games, tennis matches, track and field meets and other high school athletic events across the street at Valley City High School's Hanna Field, Suzie Kapaun's Dairy Queen is opting not to serve patrons through the lobby.
It's not a COVID-19 safety measure, Kapaun explained, rather a decision she had to make in response to the store's staffing shortage.
As of Tuesday, May 18, Kapaun counted eight employees for night and weekend shifts and two full-time day shift employees, plus a daughter who makes the hour-long drive from Fargo to help her mother fill the gaps. Still, that left Kapaun working 84 hours last week with plans to work double shifts this week as well.
The Dairy Queen still serves treats through the drive-through and walk-up orders, but it's far from an ideal set of circumstances, Kapaun said. "The lobby was closed for quite a bit during COVID,' she said. "It's just been tough this time of year. Being only walk-up has been pretty difficult."
'Numbers game'
Kapaun is not the only restaurant employer struggling to rebuild staff as the COVID-19 pandemic comes to a conclusion. "If you go around Valley City, every business in town has Help Wanted signs," she said.
The same is true in Fargo, where Drew Balstad, general manager of Rhombus Guys, said that under normal circumstances, he'd be bulking up his staff for the pizzeria's rooftop patio at this time of year.
That's yet to be the case in 2021, as Rhombus Guys is still trying to build up its indoor dining staff. "It's been a lot slower as far as applications go than years previous," Balstad said. "We've certainly had to try a lot of different methods that we haven't done before to try to get the word out there that we're hiring."
Heidi Roggenkamp, the owner and general manager of Randy's Diner on University Drive S., found herself in a similar position. "Our volume of business since the beginning of February has gotten to the point where I need to add staff," she said.
Kapaun, Balstad and Roggenkamp share the same struggle as thousands of other restaurateurs across the nation who suddenly find themselves short-handed as mask-wearing guidance drifts away and Americans eagerly anticipate a return to pre-pandemic life.
According to the Bureau of Labor Statistics, the United States tallied 12.3 million food service employees in February 2020 immediately preceding the COVID-19-induced economic shut-down. Preliminary figures from this past month pegged the figure at 10.6 million, a rift of nearly 1.7 million employees in the industry.
Hiring is a "numbers game" Balstad said, and right now the numbers are not adding up for Rhombus Guys and many others in Fargo.
"I don't know that I've seen a difference in the quality of applications, it's just hiring in and of itself is a numbers game," he remarked. "You have to have so many applicants in order to get the people that are going to fit in with your particular business environment or the way you want to operate your business. Just having less numbers in and of itself is going to make it more difficult to fill the positions."
It's not for lack of trying that Randy's Diner is struggling to fill positions, Roggenkamp said. In a recent week, she scheduled 20 job interviews, to which only 12 applicants showed up, which she said made for a "frustrating" situation. "We schedule things when we're not busy, so it's generally when my managers would be at home or they come in on their days off and work around what's best for everyone else," she said.
Desperate to bolster her ranks, Kapaun is even offering a $500 sign-on bonus for new employees at the suggestion of her daughter. Still, she said she can't keep up with larger businesses in the city. "As an individual business owner, I can't compete with the wages (other businesses) are paying," she remarked.
Jobless claims falling
Continuing unemployment claims in Cass County have dropped below pre-pandemic levels, according to a report Fargo's Director of Strategic Planning and Research Jim Gilmour delivered to the City Commission.
Citing figures from Job Service North Dakota, Gilmour said unemployment cases numbered 1,020 in January 2020 in Cass County, immediately preceding COVID-19's arrival in the state.
At the height of the virus's economic wrath in May 2020, that number was nine times higher. Today, jobless claims total 741, meaning fewer people are out of work than before the pandemic started.
It is a good sign for the overall economy in the state's most populous county, but it's left businesses trying to fill large staffing voids grasping for applicants from a small pool of job-seekers.
Tilting the scales
By all indications, the advantage is decidedly in favor of those out of work.
Gilmour surmised that job-seekers have the freedom to be more selective in choosing an employer. According to Job Service data, for every 100 open positions in North Dakota's southeast region — which encompasses Cass, Sargent, Steele, Ransom, Richland and Traill counties — only 34 job-seekers have active resumes and are looking for work.
Also aiding workers in Fargo are rising wages, Gilmour added. In the city, 91% of job openings pay $15 per hour or more, while 64% pay $20 per hour or more.
Roggenkamp believed additional federal unemployment benefits reduced the incentive for employees to return to work.
While additional federal benefits have been trimmed from previous heights, she argued the damage had already been done for employers who couldn't match the benefits.
"Even when we first got shut down and they were doing the $600 per week for people, that was tough when it was time to bring people back because they gave it to everyone," she said. "I could have a 16-year-old employee that only worked 15 hours a week and instead of getting $112 a week, they got $712 a week. What 16-year-old isn't going to be excited about that?"
North Dakota Gov. Doug Burgum is putting Roggenkamp's theory to the test. Burgum opted to halt federal pandemic unemployment benefits, a move which will go into effect in less than a month.
According to Job Service North Dakota's Executive Director Bryan Klipfel, the decision was made largely as a result of the state's high number of job openings. Job Service counted 16,400 job openings, a level the state has not seen since July 2015. It's a figure which Klipfel said may even be higher because some companies do not post job listings through Job Service.
The state's goal, Klipfel continued, is to match employees with job openings.
"I think it will definitely help," he said. "When you look at the number of job openings we have and if you take a look at the number of people that are collecting unemployment insurance, we're at about 17,000 that are collecting unemployment."
Accounting for those on unemployment who live out of state or likely will not re-enter the workforce, Klipfel estimated the number of employees who could possibly return to work at north of 10,000.
"We're trying to get people back to work and I think there are ample opportunities," he said. "If they go to work now, they're going to get the cream of the crop because there are just a lot of good jobs out there."
Bridging the gap
A multi-faceted issue, several solutions have been proposed to help solve North Dakota's labor shortage.
While Gilmour told the City Commission that demographic information was hard to come by for those who are unemployed, men outnumber women in getting back to work.
"What we've seen from some national reports over the last few months is that we've had more men enter the labor force and more women leave or not enter the labor force because of the availability of child or elder care," he said.
Commissioner Arlette Preston felt the lack of child and elder care is "a big piece we need to try to address."
Roggenkamp suggested a targeted approach to federal unemployment benefits would have been more beneficial for all concerned as some states such as North Dakota are growing and "there are jobs everywhere."
"Now you see so many of us are back up and running," she said. "It's frustrating to know that there are that many people not working yet. You can drive any street in Fargo or West Fargo and there's hiring signs everywhere."
In addition to terminating federal pandemic benefits, which Klipfel noted would not "resolve the issue completely," Job Service is beginning a campaign to spotlight job openings in the state. He said job openings are not limited to service or hospitality, but also include skilled manufacturing jobs. "It's something we really need to focus on," he said. "If we want out state's economy to boom again, we need a workforce."
Pandemic aside, Balstad said the labor shortage is "tough to nail down a specific reason." Because restaurants were squarely in the crosshairs for COVID-19 restrictions, he speculated that job-hunters are potentially skeptical to return to the food service industry. "I think there's probably still some hesitance to get into an industry that is not as secure as it was before."
Balstad did not suspect that beefed-up unemployment payments were a "major factor" behind the shortage, nor was he certain Burgum's decision would completely solve the issue.
"It couldn't hurt, but I don't think that specific issue is as widespread as many people think it is," he commented. "It's definitely a factor which will change probably some of the decision-making on people's timeline for returning to work."
Gilmour noted that the data indicates that those who were unemployed are returning to the workforce. "They were already getting back to work because for many people the unemployment insurance wasn't as high as the jobs we have now," he told the City Commission.
No matter the solution, employers find themselves with immediate staffing needs and few people to fill them. Ultimately, Balstad believed the restaurant industry will need to wait out the storm.
"It's not going to help employers in the short-term trying to find people, but I think it's something that's going to just adjust itself over time," he said. "For a restaurant that needs people for this Friday, that's not a good answer or an answer that anybody will particularly like."