Williston Economic Development ready to get Back in the Game after summit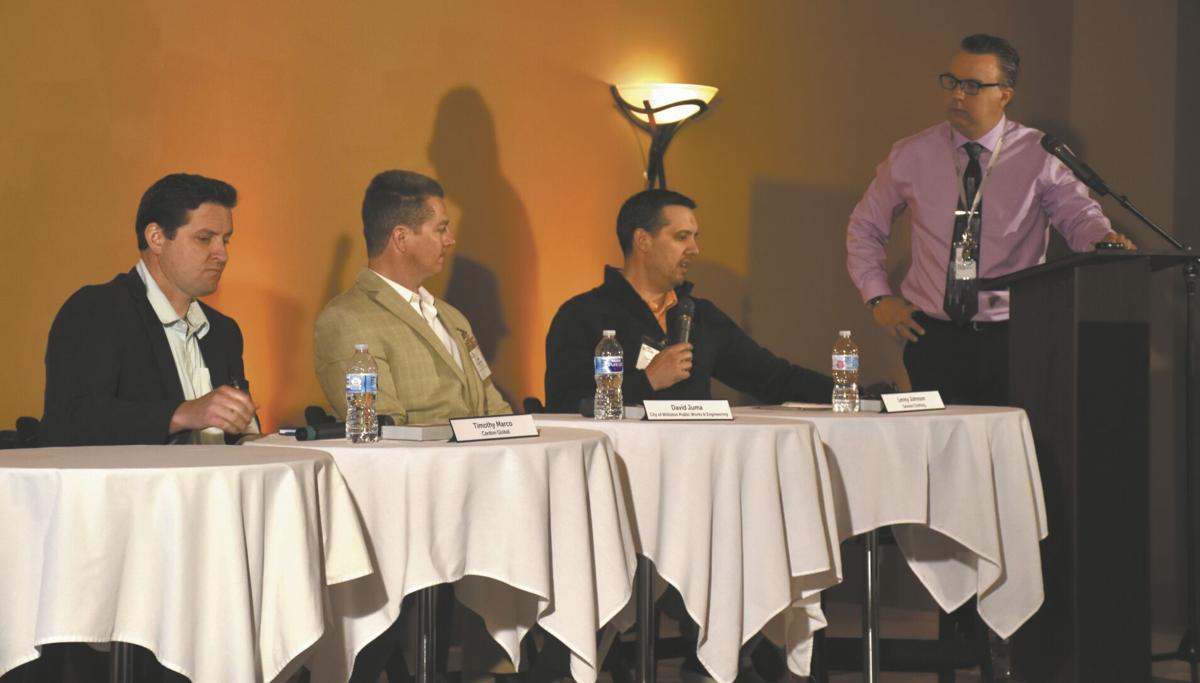 BISMARCK, N.D. – Commerce, construction and COVID; the 2021 Williston Economic Development Summit highlighted a year full of successes from 2020 and shared a positive outlook for the coming year.
Held that the Eleven Restaurant and Lounge in Williston, the summit brought together industry professionals from economic development, the Department of Commerce, the City of Williston and more. The day-long summit covered topics such as construction trends in the region, Unmanned Aerial Systems, future development and the legislature.
Mayor Howard Klug presented his annual State of the City Address during the summit, sharing the city's own successes coming out of 2020. The theme of the summit was "Back in the Game," something the Economic Development office has been waiting to do since the pandemic hit last year.
"I tell you what, it's really nice to be back," Economic Development Director Shawn Wenko said. "The theme for this year's summit seems fitting, as the past year has played out like an ESPN sports documentary."
Wenko said 2020 made his office play a style of economic development that he doesn't like to play; being on defense. With 2021, Wenko said Economic Development is already moving forward strongly, with the introduction of the office's Superstars program and 21 in '21 initiative.
"We're well on our way to reaching our goal, and we're only four months into the year," he said. "It's really showing right now the type of appetite and activity we're going to see coming in to Economic Development."
Wenko went on to moderate the first panel of the day, and overview of the development of Williston Square. Genesis clothing owner Lenny Johnson, City Engineer David Juma and Cardon Global President Tim Marco joined as speakers, discussing the challenges and potential in developing the 800 acre property.
Development leaders from Tioga, McKenzie and Divide counties and Williston joined Moderator Ann Kvande from Western Region Economic Development to give an overview of economic development in Northwestern North Dakota, followed by an overview from the North Dakota Department of Commerce, hosted by NDDoC Economic/Community Development Lead Maria Effertz Hanson.
Development Services Director Mark Schneider was joined by local contractors, designers and real estate agents to discuss construction trends in the region, such as building permits, commercial permits and residential construction hot topics.
"A big thing to take away, is we have 136 permits to date this year, but last year we were at 82." Schneider said. "That means we're getting than the year before; and keep in mind that in 2020, which was a pandemic year, we actually exceeded 2019 as well. So for the last couple years we've been in an uphill swing and we think that's great news."
The afternoon rounded out with panels from the Northern Plain UAS regarding Vantis, North Dakota's statewide Unmanned Aircraft Systems Network. Airport Director Anthony Dudas shared an update on operations at XWA, including the upcoming return of Delta Airlines to the region, and the possibility of a third carrier joining the airport in the future. Emerging Oil & Gas technology and the development of Downtown Williston followed, with an update from District 1 legislators Brad Bekkedahl, Pat Hatlestad and David Richter bringing the summit to a close.
Participants then headed next door for the Chamber of Commerce's Business After Hours, where they enjoyed food, beverages and networking.