Saul's Speakeasy in Minot Was Named the "Most Haunted Restaurant in North Dakota"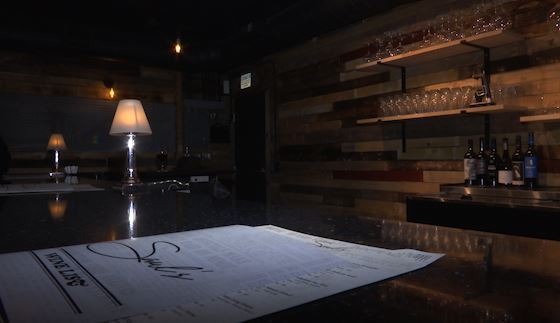 MINOT, N.D. – I used to live in the small town of Minot, North Dakota, and let me tell you, if you've ever been, I'm almost positive you'll agree very few exciting moments happen here. It might be hard to imagine downtown Minot, with its quaint little shops, wine bars, and staggering bingo halls, could harbor such a dark, ghostly history—but oh, it does.
If you ask any locals or even do a little research on North Dakota, you'll find there are many accounts of paranormal activity—and the tiny town of Minot was no exception. Behind the friendly people and the beautiful purple skies, Minot is a bit of a party town. With a bustling night-life and an abundance of drugs and crime, Minot earned itself the nickname of "Little Chicago" throughout the 20th century once the nationwide prohibition came into effect way back in the 1920s. Because of all the dark activity around town, it's no wonder there are ghost stories a-plenty about downtown Minot. When visiting Minot, one could even go on ghost tours that take you to all the haunted spots ("The History and Murder of Minot Tour" and "The Ghosts of Minot Tour").
Still, probably the most famous would be the story of Saul's speakeasy.
Saul's speakeasy in downtown Minot, run by the owner of the Tap Room (another excellent place to hang out), is a hidden 1920's style bar.
Honestly, it's an enjoyable experience whether you're out ghost hunting or not. Saul's takes the "secret speakeasy" vibe to a whole other level–they're serious about it. To get to Saul's directions can't be found on the internet (though you can ask one of the locals, where's the fun in that?)
Guests who visit Saul's can only find a phone number, 701-401-2105, and are instructed to send a text. The number will send a riddle, and the password to enter the speakeasy is the answer to the brain teaser. Cool, right?
Saul's role-playing aspect makes for a good time already. Still, the speakeasy, though well-known for its ambiance and food, is gaining national attention after recently being named the most haunted restaurant in North Dakota by the Food Network.
Let's talk about the history of Saul's to set the mood a bit.
Saul's was opened as a tribute to a man who owned a clothing store in the upstairs space from the 1940s all the way to the 1970s. His name was Saul Shark, and apparently, his spirit is the one hanging around the bar. Saul was a very respected clothier around town. Shark's Men's Store became the go-to place for all of Minot's mover's and shakers—doctors, business men. Honestly, there's not much else known. There isn't even a picture of Saul in the bar because none can be found–not a single one, but that doesn't mean Saul isn't hanging around.
The staff of Saul's and the owner, Jon Lakoduk, have reported several different supernatural happenings around the bar.
Jon reports kegs have knocked together, chairs move by themselves, and there is a "general feeling of not being alone down here at night after everybody's gone."
Jon also leaves a drink out for Saul every night on the bar and has said sometimes there is less in the glass than before when the bar opens.
It's hard to say if Saul's speakeasy is truly haunted, but with so many accounts of Saul's spirit still shuffling around the bar, I'd say if you're up for a unique atmosphere with a dash of spookiness, check out Saul's for yourself.