North Dakota State Picked To Repeat In Spring Season; NDSU Aims for 10th-Straight Missouri Valley Football Crown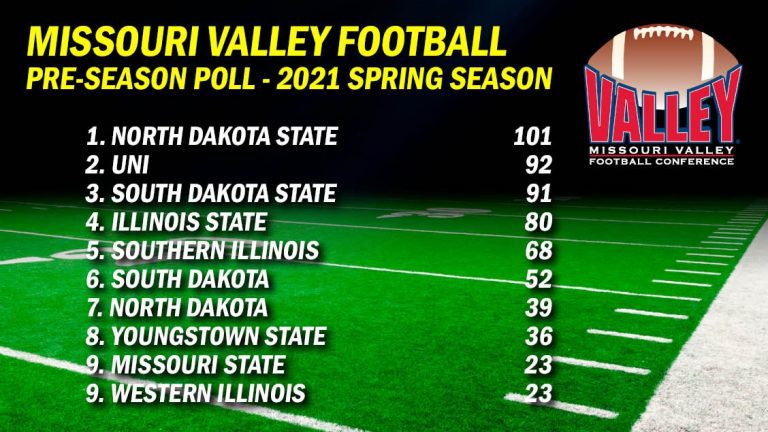 N.D. – North Dakota State has been tabbed as the Missouri Valley Football Conference preseason favorite in a poll conducted by league coaches. NDSU has been picked first in the pre-season poll for nine-straight seasons.
After winning its lone game in the fall, NDSU has won a league and FCS-record 38-straight games. North Dakota State has earned the league title for nine-straight years, four times sharing it with another league school.
This year, NDSU received 101 points in the coaches vote to edge UNI (92) and South Dakota State (91). Illinois State and Southern Illinois round out the Top 5 in the poll with 80 points and 68 points, respectively. South Dakota (52) is next, followed by the newest member of the Conference, North Dakota, with 39 points for 7th. Youngstown State (39), Missouri State (23) and Western Illinois (23) round out the voting.
In 2019, four MVFC teams earned selection to the NCAA Division I Championship, and North Dakota State won its eighth national championship in nine years. Counting last year, an MVFC member has reached the FCS semifinals 24 times in the past 24 seasons (and 27 times overall), and the MVFC has had two semifinal teams in four of the past six seasons. In the last decade, MVFC teams were 67-28 in the playoffs, and only one other conference (the CAA at 44-39) had a winning record. Since 2004, league teams have combined for a 81-41 record in playoff games, with eight titles – both tops in the FCS. Notably, only the MVFC (2011, 2012, 2013, 2014, 2015, 2017, 2018, 2019), CAA Football (2016) and Big Sky Conference (2010) have an FCS title the past decade (2010-19).
A pre-season favorite has claimed the league crown 22 times (in 34 previous polls). North Dakota State was picked to win the league last season, and the Bison earned both the league title and the national title (following a 28-20 win over James Madison in the NCAA Division I Football Championship game in Frisco, Texas). In 2019, the league fashioned a 27-19 non-conference record and won the Big Sky-MVFC Challenge Series for the third-straight year.
The season featured another MVFC win against an FBS school as Southern Illinois handled UMass, 45-20. Valley schools have had at least one win against an FBS opponent in each of the past 10 seasons, had 19-such victories from 2010-19 and the league has a total of 46 FBS wins in MVFC history. Three MVFC teams (North Dakota State, Missouri State and Southern Illinois) played non-conference games this past fall, for a total of five contests. Every game was against a ranked opponent. Three of the five games were against #11 UCA; Southern Illinois beat #25 Southeast Missouri State; and Missouri State also tackled fifth-ranked FBS Oklahoma.
After going 2-3 against ranked opponents in the fall, the MVFC has had at least one win against a non-conference ranked opponent every year since going 0-4 in that space in 2004.