North Dakota couple inducted into the Appaloosa Hall of Fame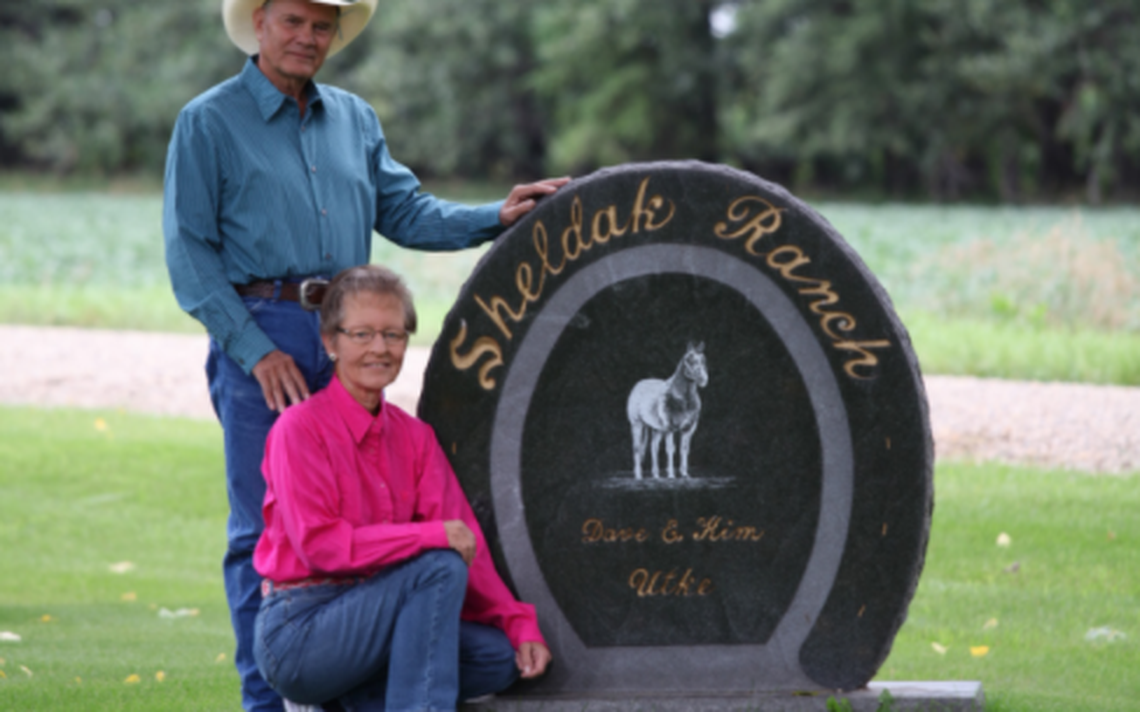 N.D. – After their years of hard work, diligence and overall passion for the equine industry, Dave and Kim Utke have been inducted into the Appaloosa Hall of Fame, an honor the couple well deserved.
"It was an honor beyond belief to receive that letter from the Appaloosa horse club with the announcement. We have received many congratulations from all over the world, which is greatly appreciated," Kim Utke said.
Dave and Kim Utke have received an abundance of honors for their role in the equine industry besides being inducted into the Appaloosa Hall of Fame. Sheldak Ranch was named No. 3 on a list of the top five horse farms in the United States by Horseman Magazine in 2012. The couple was also named the Red River Horse Breeders Association Horseman and Horsewoman of the Year in 2016. That same year the couple was honored with the North Dakota State University Harvest Bowl Outstanding Agriculturalist Award.
The Utkes started their operation, Sheldak Ranch, more than 50 years ago, with $1,000 and big dreams.
"Well, I stuck with my pipe dream as a kid to raise horses for a living. Dave and I started our horse business with only $1,000 between us both," Kim Utke said.
The couple was able to take their investment and grow quite the business through selling Appaloosa horses, a breed noted for their unique coloring.
"We chose the Appaloosa because they were noted for their disposition, confirmation and their athletic ability and that, topped off with a unique coat pattern, was like icing on the cake for us," Utke said.The Utkes' Appaloosa offspring has succeeded in many disciplines across the globe, putting Sheldak Ranch's genetics on the map.
"Our horses have gone out and done everything. I don't think there's a class that they haven't gone out and won," Utke said.
One of their horses was even singled out among many desirable warmbloods — middle-weight horses that combine athletic ability with calm demeanor — and asked to perform a demonstration in Canada.
"The Grandmaster came over from England and did a clinic up there in Canada. Out of all the warmbloods to choose from, he, Grandmaster, picked our Appaloosa for the demo," Utke said.
The Sheldak Ranch has utilized magazine advertisements to market their horses, a tradition that started in 1969.
"Our first advertisement came out in October 1969 in the Appaloosa News. We have had a full-page ad in the magazine every year since that time," Utke said.
The Utkes primarily sell all their offspring through private treaty.
When it comes to raising their offspring and tending to their mares and stallions, the Sheldak Ranch takes a simplistic and natural route for their management plan.
"Our horses are raised the natural way. No box stalls, no barns, no lights, no cameras. If a foal doesn't make it being born that way, that's the best guarantee they will not grow up and pass that trait onto our stallions. They're outside when it's 40, 50 below zero and they're outside when it's 100 above. They can go anywhere in the world and survive and thrive very well," Utke said.
The couple have made lifelong friends and memories throughout their time in the industry, as well as an interesting story or two.
"One of their first customers was Burt Reynolds. We haven't had any more movie stars since then," Utke said.