Minot upsets North-South, makes first semifinal since 2006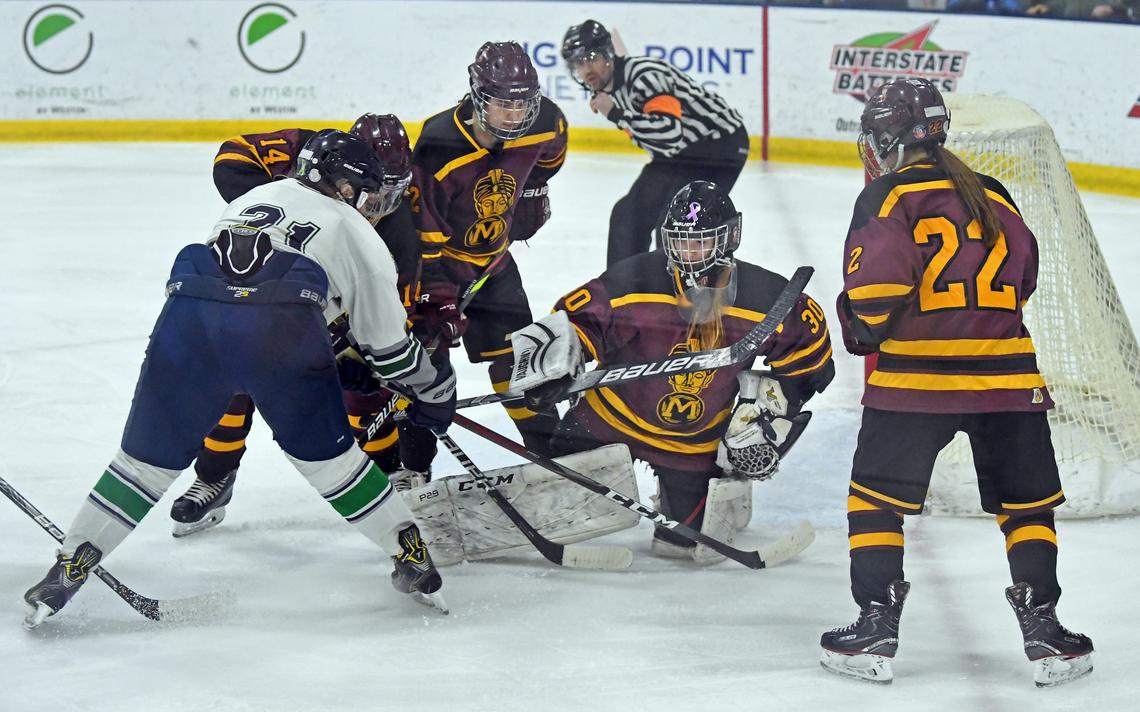 MINOT, N.D. – For the first time in 14 tries, the Minot girls hockey team made it out of the first round of the North Dakota girls state hockey tournament.
The sixth-seeded Majettes upended third-seed Fargo North-South 3-1 in the state quarterfinals on Thursday, Feb. 27, at Farmers Union Insurance Center. They advance to face Bismarck on Friday.
"This is the first time since 2006 Minot has been out of the first round and they've been every year since," Majettes co-head coach Makayla Sandvold said. "So we got the monkey off our back."
Minot made its shots count and goalie Amber Borkhuis got hot at the perfect time to propel the Majettes. North-South out-shot Minot 25-9, but the underdogs buried three of their nine shots in the goal.
"North-South played fantastic defense," Minot co-head coach Christopher Stokke said. "We knew coming in that shots would be limited, so we knew that everything that was going to the net had to be quality and they were."
North-South's Josie Hell scored an unassisted goal 47 seconds into the game, but Borkhuis shut them out for the next 50 minutes, 13 seconds. She made 24 saves, including 15 in the second period.
"We couldn't have done that without her," Stokke said. "Amber has played fantastic all year and she had her best game today."
About a minute after Hell gave N-S its early lead, the Majettes evened right up with a goal by Abby Tallman, assisted by Alyssa Aguirre and O'Malley Eslinger. Tallman had points on all three goals, tallying two goals and an assist. She had an assist on the go-ahead goal with 6:20 to go in the first.
Tallman centered a pass to Taylyn Cope at the right circle and buried it past the goalie at the near post.
"We preach we have to keep our emotions in check, never too high and never too low," Stokke said. "So we came back and got that first goal and then another one."
The Majettes special teams were huge in the third period as they scored a power-play goal and killed three N-S power plays. Tallman scored a power-play goal with 6:39 remaining in the third to brace the Minot lead. She got a pass from Eslinger in the slot and buried it in the net.
North-South went on a power play a minute later, but the Majettes killed it and held onto their lead.
"Our penalty kill was huge in the third period," Sandvold said. "We had girls blocking shots, playing physical. We were in it to win it."