Minot beats Legacy in first game 2-0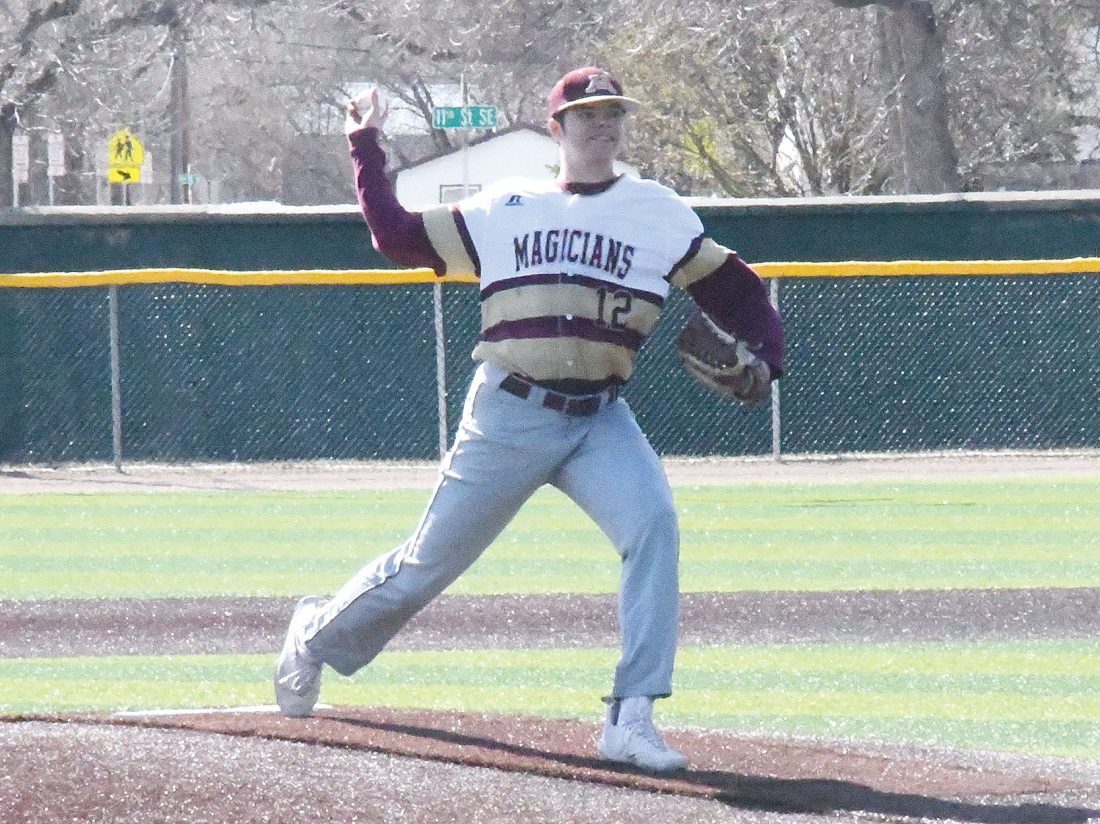 MINOT, N.D. – The Minot Magicians wrapped up their 2021 regular season schedule with a pair of games on the road against the second-place Bismarck Legacy Sabers on Monday. Heading into play, Minot had won five straight games and sat in third place in the WDA West Region at 18-8 overall.
In the first ballgame of the day, the Magi came away with a 2-0 victory. It was a scoreless game through four full innings as Minot's Eli Nissen and Legacy's Wyatt Kraft locked horns on the mound.
Then in the fifth, Tyler Budeau, Nissen and Dylan Buchanan all reached with singles to load the bases with one out. After Buchanan's hit, Trent Greek recorded an RBI as he reached on a fielder's choice to the shortstop which allowed Budeau to score from third. Minot would score its only other run in the seventh courtesy of a two-out hit from Buchanan who went 2-for-4 in the game.
Offensively, Minot collected 12 hits compared to three for Legacy. Nissen picked up the complete game shutout victory for the Magi as he pitched all seven innings and allowed just one walk while striking out eight.
In the second contest, Minot jumped out to an early 2-0 lead in the first. Chase Burke and Nissen started off the inning with a pair of walks, and then a single by Buchanan drove in Burke from second base. Later in the inning, Hunter Ruzicka's two-out RBI single drove in Nissen.
In the third, Ruzicka notched his second hit of the game with a triple and later scored on a Kellan Burke double. After three full innings, the Magi held a 3-2 advantage. The Magi added two unearned runs in the fourth and led 5-2 at that point before surrendering a run in the fifth and two more in the sixth to tie up the game.
With the game deadlocked at 5-5 after seven, the game went into extra innings. After nine full innings of play, the game was still knotted up at 5-5. The tenth inning would prove to be the final frame. In the top half of that inning, Minot's first three batters all reached to load the bases with nobody out. Two hitters later, Chase Burke was issued a free pass on four straight pitches which forced in a Magi run. In the next at-bat a Nissen sacrifice fly allowed Kellan Burke to score which extended the Minot lead to 7-5.
As things turned out, the Magicians were unable to preserve the lead as Legacy scored three runs in the bottom of the 10th to steal the win in walk-off fashion.
With the regular season now over, Minot turns its attention to WDA West Regionals. Quarterfinal action is slated to begin on Thursday, May 27 in Dickinson.