Judge questions legality of deal between Las Vegas gambler, North Dakota Attorney General's Office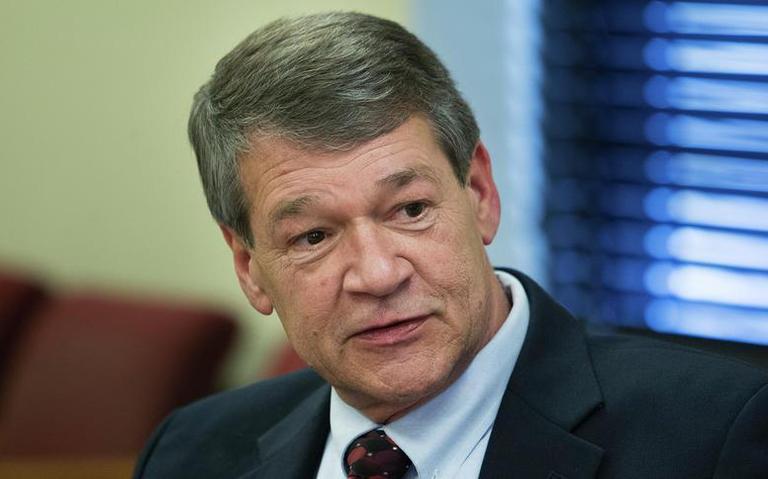 N.D. — In a recent ruling, a federal bankruptcy judge said an agreement between a Las Vegas gambler and the Office of North Dakota Attorney General Wayne Stenehjem seems to violate state law.
The ruling by Judge Thad Collins also called a nearly two-decades-long case in North Dakota an example of a "runaway process that must stop."
Collins, chief bankruptcy judge for the Northern District of Iowa, issued his ruling on April 23 as part of a civil case that harks back to 2004, when Racing Services Inc. (RSI), an off-track horse race wagering company in Fargo, filed for bankruptcy.
Since then, RSI and the company's founder, Susan Bala, have been at the center of numerous legal proceedings, both civil and criminal.
RSI filed for bankruptcy shortly after the company came under scrutiny by federal authorities. A criminal case was brought in federal court, and in 2005 Bala was convicted of illegal gambling charges and ultimately sentenced to prison. She was released early after her convictions were overturned on an appeal.
A number of legal proceedings involving RSI came to a head in 2014, when a federal judge ruled that the state of North Dakota wasn't authorized to collect taxes on account wagering, a form of gambling that utilized services like RSI.
As part of that case, the state of North Dakota agreed to pay about $15.8 million to RSI's bankruptcy estate and its sole owner, Bala.
The state wired the funds to the RSI estate trust account in early 2018. Since then, the balance has fallen by several million dollars due to disbursements to creditors and legal fees.
Final distribution to Bala of the remaining money has been delayed by continued legal wrangling, some of which stems from early in RSI's bankruptcy case when a large creditor — PW Enterprises — filed an initial claim for about $2.2 million.
PWE's owner, Peter Wagner, has been described in court documents as a high-volume gambler who had agreements with RSI on gambling rebates and for using the company's facilities.
After the state of North Dakota agreed to pay the bankruptcy estate about $15.8 million, PWE amended its original $2.2 million claim, increasing what it sought from the estate by about $10.8 million.
In November 2018, the U.S. Bankruptcy Court denied PWE's amended claim, but approved PWE's initial $2.2 million claim. PWE appealed the decision, claiming it was entitled to money North Dakota paid to the bankruptcy estate. In the alternative, PWE said, money returned to RSI from North Dakota should go to charities.
The state of North Dakota, represented by Stenehjem's office, filed a brief in support of PWE's appeal, but later withdrew the brief. PWE's appeal was ultimately dismissed in June 2020.
In late December 2018 — about a year after the state of North Dakota and the RSI bankruptcy estate settled for about $15.8 million — the state filed a fresh claim against the estate on behalf of nonprofit groups. PWE filed a brief in support of the state's claim.
An evidentiary hearing was held on the state's new claim on May 30, 2019.
During that hearing — and only after direct and persistent questioning from Judge Collins — the judge learned an agreement had existed between the state and PWE since about December 2018 that called for the state to split any proceeds it recovered for charity with PWE.
In January 2020, Collins issued a ruling denying the state's new claim against the RSI bankruptcy estate, a claim specifically made on behalf of just one nonprofit group — Team Makers, the fundraising arm for the North Dakota State University athletic department.
Violation of state law?
The ruling stated that North Dakota did not have standing to bring a claim on behalf of Team Makers and even if it did, the claim was barred because the record overwhelmingly demonstrated there was an "inexcusable" delay in asserting a claim.
The state appealed that ruling to the Bankruptcy Appellate Panel (BAP), and PWE sought to join the state in that appeal.
In September 2020, the appellate panel issued a ruling that partly affirmed and partly reversed Judge Collins' January 2020 ruling.
The appellate panel's decision sent the case back to Collins, who was tasked with again ruling on the state's new claim on behalf of Team Makers, though this time the bankruptcy judge was to decide the claim on its merits and not its timeliness.
The bankruptcy judge was also obliged to rule on an amended claim the state brought during the May 30, 2019, evidentiary hearing on the state's new claim, with the amended claim asserting a breach of contract claim against RSI on behalf of Team Makers.
In his April 23 ruling, Collins ruled against both of the claims the state brought against the RSI bankruptcy estate on behalf of Team Makers.
In his ruling, Collins takes aim at the agreement that existed between the state and PWE.
The judge described the state's partnership with PWE as puzzling, noting that if the state was really arguing that North Dakota law required that all net proceeds from gambling must go to charities, "it remains entirely unexplained why the state would agree to split any amount of 'net proceeds' it recovered for Team Makers with PWE — an entity that is not a charity."
Under the state's own argument, the judge said, the agreement "seems to violate North Dakota law or is invalid on its face."
In response to a request for comment, a spokeswoman for Stenehjem's office referenced the state's official pleadings on file with the court. Efforts to reach PWE and Team Makers for comment were not successful.