From paper to pots, Moorhead art professor shares pandemic art at faculty exhibit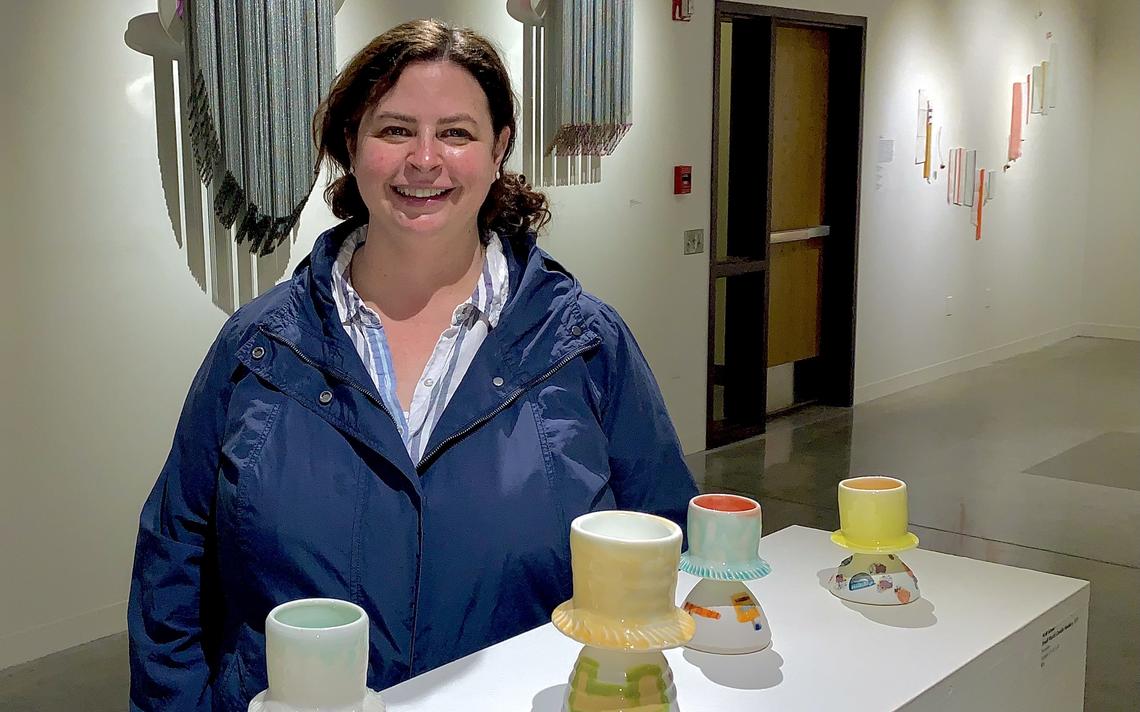 MINOT, N.D. – MSUM art professor shares pandemic art ahead of her departure from the school
Bringing a diverse collection of artwork together from faculty at Minnesota State University Moorhead, the current exhibition at Roland Dille Art Center for the Arts Gallery represents a whole year of creativity while cut off from the outside world.
The show called "Panoply" is in its final week on view in the gallery.
Chock full of art from faculty including Zhimin Guan, Brett Lysne, Sherry Short, Chris Walla, Carlos Pacheco, Brad Bachmeier and Kelli Sinner.
It's clear even before entering the gallery that ceramics professor, Kelli Sinner, had a productive year while stuck at home due to the pandemic thanks to an artist grant.
Out in the entry area of the gallery called the Art Annex, a large showing of her handmade paper prints can be found lining both sides of the throughway.
Supported by The Arts Partnership, Sinner's grant allowed the artist to pursue a craft she's always been interested in – paper making.
"I think when grants can allow you to do something you wouldn't normally do, that's awesome, that's a big push forward," says Sinner on the impact of her funding.
If there was a silver lining to the rocky year of teaching remotely, it's that the teacher had more time to focus on her own work.
"If it wouldn't have been for the pandemic, I wouldn't have had as many hours in my studio. So it was interesting how, like, that was one of the positive aspects of this is I made more artwork this year."
Inspired by an article she read in the early days of the COVID-19 outbreak on the soothing effects of seemingly mundane activities, Sinner found comfort in repetitive tasks.
Her daily life began to creep into the work she was creating, alternating between throwing new bowls and plates to creating her very own paper by hand.
"During the pandemic, when we weren't going anywhere, suddenly, this was literally the only place I would go is home and into the studio, and so it became my inspiration," she says.
The artist's handmade paper exhibit is titled "Small World," taking her focus on the ordinary to the next level by using her walking route through her neighborhood as a recurring shape pressed into the paper.
"You know when people post the runs they went on, and you see those cool shapes? So these are like handmade paper versions of little blocks," says Sinner.
A labor intensive process, Sinner made the handmade paper using a number of repetitive tasks, echoing her subject-matter.
For each color of paper, the pulp must be made from macerated plant fibers, dyed, placed in a vat of water, pulled through a screen, pressed and then dried under weights for several days.
Going inside the gallery, Sinner's ceramic works draw on her focus on the small things with a bit more of a serious undertone, referencing her experience being laid off from her job at the school.
Through similar shapes and colors, Sinner outlines her environment on campus, one she will have to part with at the end of the semester.
"It becomes this reflection of 'Wow, for the last 15 years this is the place where I've spent so much time,' and so I think there was a little bit of self reflection, a little bit of sadness,"
Sinner's position was eliminated last year due to budget cuts to the university, with art and theatre departments hit especially hard.
In crisp white bowls and plates, Sinner builds up layer upon layer of color, adding glittering glazes and repeating lines – referencing the parking spaces just outside her studio at the school.
Thinking back on the impact of her career at MSUM, Sinner says she'll always remember the way her students transformed into new people as she watched them grow from freshman to seniors and beyond.
"Watching that transformation is probably the best part of my job. They change so much, and they have that moment where it just clicks, and it's really special to be a part of that; I feel really privileged to be a part of that," says Sinner.
With this year being no exception, teaching art is about more than making things, it's also about responding to the outside world and discussing really big topics.
"That's one of the awesome things about teaching art, is that we really get to know our students, we spend a lot of time talking about serious things, and you know, issues that really matter to them," says the ceramics professor.
And unlike other topics where there's only one right answer, the individuality that shines through in her classes is a sign of success for the teacher.
"When I'm doing my job, right, then everybody's work looks different. That's one of the ways that I gauge if I'm doing a good job."
Now with her sights on the next artistic endeavor, Sinner holds on to the hopeful spirit that inspired her ceramics – looking forward to the day she can host parties and use the colorful plates she made – while keeping an eye out for the next big project.