Williston baseball kicks off season with doubleheader loss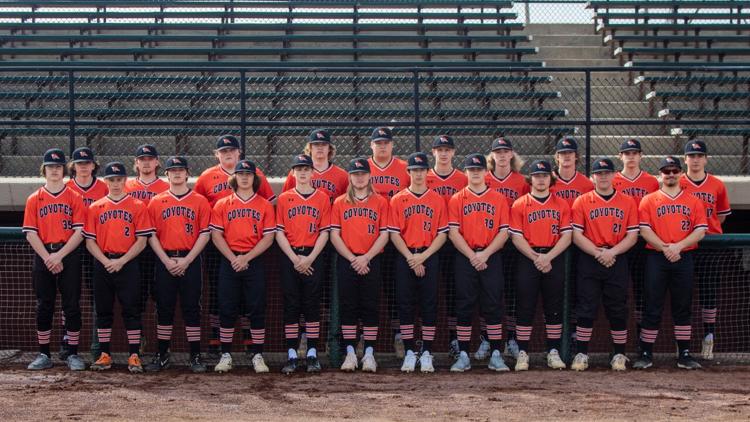 MINOT, N.D. – Coyote baseball is back this year and opened the season with a non-conference doubleheader in Minot on Tuesday, April 6.
Unfortunately, the Coyotes lost 18-8 both games.
However, after not having a season last spring, losing some key seniors who didn't get to play in 2020 and with Minot being the preseason No. 1 pick, the loss is part of the Coyotes' course to finally get back to having a season.
Last year, the season was canceled following the nationwide shutdown resulting from the COVID-19 pandemic.
Had there been a season, the Coyotes would have had an incredible opportunity to make it far in the WDA and make another state appearance.
In 2019, the Coyotes finished No. 1 in the WDA and made it to the state tournament but were knocked out in the first round by Shanley.
Aaron Finders, the Coyotes' head coach, said during an April 5 interview that since they lost that season he has some players who haven't played on the Coyote varsity level yet that otherwise would have.
On the flip side, he said some players did get to play at the varsity and JV levels in summer baseball, like for the Williston Keybirds for example, but they just didn't get to have a Coyotes season.
Finders said there were some great kids on the roster last year, and some of those kids did return and will lead the team like seniors Kyle Mischke and Grant Cymbaluk. Finders said those two would have played a big part if there was a season last year.
And as the season unfolds, Finders said the No. 1 thing he wants his team to focus on is to pitch and compete on the mound.
"Once we get to that point we give ourselves a chance to compete throughout the whole game but it has to start on the strike one," Finders said.
He also said they're looking to win as often as possible and be in as many games as they can, but the competition this year is tough.
Finders said all the teams in the WDA have great athletes who all want to play and win and since the Coyotes have won quite a few games in the past, he said those teams are coming for them.
"We're playing against some really good competition," Finders said "This league in the WDA is unforgiving."
Ultimately, Finders said he's just trying to produce a great team with some great kids.
"We're trying to produce a great baseball team that people can come out and watch and cheer on. We have a bunch of great kids here," Finders said. "It should be a good team."
Box score | Game 1
Williston and Minot played five innings for both games.
In the first game, Minot took an early lead and finished the first inning 3-1 over Williston.
The Coyotes didn't score again in the second and third innings but Minot did making the score 17-1 at the top of the fourth.
But Williston found a break in the fourth inning, making seven runs and holding Minot scoreless.
Minot returned to the scoreboard in the fifth inning with another run and the game ended 18-8. Williston had five hits and no errors and Minot had 14 hits and one error.
Cymbaluk pitched for Williston and Tyler Buchanan pitched for Minot.
Williston highlights from the first game include:
Derek Lee went 2 for 2 at the plate
Mischke had one hit and one run batted in hit
Chase Brannin had one hit and one RBI
Kadin Finders had one hit and one RBI
Box score | Game 2
The second game started out in Williston's favor.
In the first inning the Coyotes led three runs over Minot's one. But in the second inning, Minot picked up five more runs leaving Williston scoreless.
That was the same case in the third inning and in the fourth inning Williston added three more runs to the scoreboard and Minot added four.
In the fifth inning Williston had an additional two runs and Minot had three. The game ended in Minot's favor, 18-8.
Minot walked away with 11 total hits and Williston had nine. Minot also had three errors.
This time Finders pitched for Williston and Talon Hebert pitched for Minot.
Williston highlights include:
Cymbaluk went 2 for 3 at the plate and had two RBIs
Lee went 1 for 3 and had one RBI
Mischke went 1 for 4 and had one RBI