Vision Zero regional coordinator promotes safety education in Minot area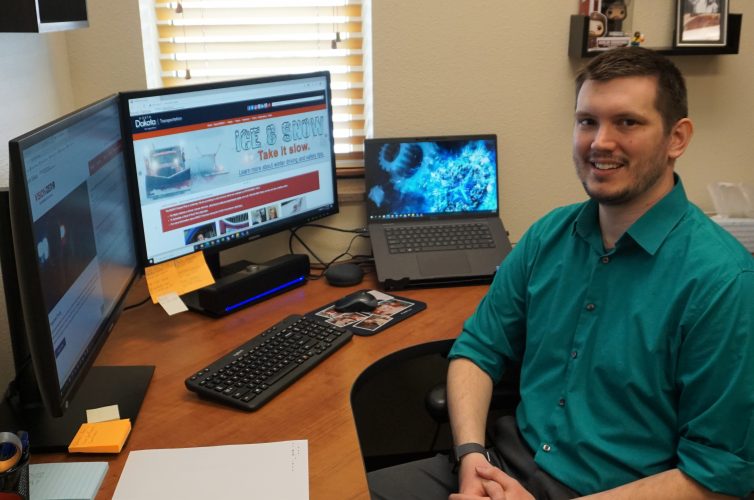 MINOT, N.D. – Former radio personality and sportscaster Kyle Patterson became the regional coordinator for Vision Zero on Jan. 18. Previously at iHeart Media and KCJB Radio, his voice was heard on morning radio as Kyle Dean and in local play-by-play sports broadcasting before Patterson joined Vision Zero.
Vision Zero is a series of strategies to eliminate highway fatalities and serious injuries.The program launched in January 2018 through the governor's office, North Dakota Department of Transportation, North Dakota Highway Patrol and North Dakota Department of Health.
Zero fatalities is a lofty goal, but it is the only acceptable goal because no deaths are acceptable, said Patterson, who will be focusing on public education in his new role.
Patterson especially looks forward to event planning and the communication aspect of his new position.
"I love talking to people," he said. "Just meeting with a lot of these community leaders throughout the region, honestly, is going to be fun, but it's also going to be important in trying to figure out, for this outreach, what the main goal is."
He has many community leaders he wants to meet in his territory, which covers 16 counties extending from the Canadian border to Killdeer and from Rugby to Williston.
Patterson is one of three regional coordinators in North Dakota who have come on board to assist a program supervisor in Fargo in extending the work of Vision Zero. The other offices are in Grand Forks and Mandan. The North Dakota Association of Counties oversees the program.
The regional coordinators eventually want to get information out through blogs, social media and websites. All information will be coordinated with the North Dakota Department of Transportation to ensure a consistent message.
Regional coordinators also serve as a points of contact for community leaders and the public on the issue of transportation safety.
Patterson grew up in Norwich, graduating from Surrey High School and earning his degree in broadcast production from Minot State University in 2013. He also obtained a master's degree in sports management from MSU.
He worked as sports director at a Harvey radio station and later at a Jamestown radio station. He returned to Minot to be closer to family and worked as an admissions counselor at MSU for a time before returning to the radio business. He lives in Burlington with his wife and two children and has been involved with Companions for Children.
Patterson applied for the Vision Zero position because of the opportunity it affords to be involved with the public.
"What attracted me, I would say, is definitely working once again with community members and also the core group of high school students," he said. "Most of my jobs previously have been involved with the high school level, including sports play-by-play, interviewing the students."
Looking to the day when COVID-19 restrictions ease to a greater extent, Patterson said he expects to conduct outreach events to schools and in public settings such as speedway races and county fairs. Regional coordinators also hope to work together to bring information to larger venues, such as the State Fair in Minot.
"Also, we'll try to create our own campaigns to bring in community law enforcement, ambulances, Safe Kids," Patterson said.
The message is the same regardless of the audience but its delivery will vary with the demographic. A presentation called "Impact Drivers" speaks to youth with stories they can relate to, particularly with distracted driving. There's also pieces of the program that emphasize safety related to trucks, bicycles, motorcycles and pedestrians.
"It's very broad, but the same message. Vision Zero is just zero fatalities and what we can do to lessen distracted driving, driving under the influence," Patterson said.
In 2019, the most recent year of statistics, there were 100 traffic fatalities, a decrease of five from 2018. Statistics show 42% of fatalities were the result of impaired driving, with 240 deaths from alcohol-related crashes in the past five years. Vision Zero also highlights that single-vehicle lane departure, often due to distracted driving, is the most common type of crash resulting in serious injuries in rural North Dakota. The data show failure to wear a seatbelt is the biggest contributor to fatalities.
So far in 2021, there have been 18 traffic-related deaths in North Dakota.
(Prairie Profile is a weekly feature profiling interesting people in our region. We welcome suggestions from our readers. Call Regional Editor Eloise Ogden at 857-1944 or call 1-800-735-3229. You also can send email suggestions to [email protected].)