Stranded in his car for 3 days in 50 below zero weather, a 16-year-old North Dakotan faced multiple amputations. Where is Bennett Stebleton now?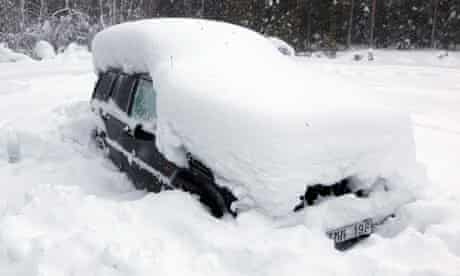 N.D. – All it takes is a scroll through 48-year-old Bennett Stebleton's social media accounts to understand that he's a bit of a Renaissance man — a talented communicator and artist, animal lover and activist. However, even with all of his accomplishments, there is one thing he hasn't been able to master.
"I can't play the guitar," he says with a big laugh as he holds up his hands to show that eight of his ten fingers end at the first knuckle — all but his thumbs about one-third the length they used to be.
Stebleton's amputated fingers and amputated lower legs are visible reminders of three nights and two days when he, at 16, fought to survive bitterly frigid conditions, alone in his car, on a country road. He came out on top and hasn't slowed down since.
On the night of January 30, 1989, Stebleton, a high school junior, had just dropped off his brother at a train station in Devils Lake, North Dakota, about 45 miles from his home in rural Egeland.
"He was set to go into the Air Force, and they had to do the physicals and things like that in Fargo," Stebleton explains in a Zoom interview from his home in Denver. "My parents were already in Fargo waiting for him there, so I had the house to myself for the night."
But any notion of him enjoying the house to himself ended when Stebleton took a wrong turn and got stuck on a snow-clogged, seldom-used township road six miles from his home. Stebleton was dressed for what the weather had been like the last few days — unseasonably warm with highs near 40. He wore a light, waist-length jacket, gloves, jeans, cowboy boots and a stocking cap.
The only problem was, the weather was turning , dropping 30 to 40 degrees in the next few hours. He was caught off guard.
"I may have known or may have seen something, but I was 16. I didn't pay attention to the weather reports," Stebleton said.
But as the increasingly bitterly cold winds whipped up the snow around him, he knew the best bet was to stay with the car and wait for help. He did that, periodically starting the car to keep warm. But by the next day, the car battery died.
"This was not good news. I did a lot of cussing and trying to do whatever I could to get it started, but I couldn't get it to turn over. There wasn't much I could do," Stebleton said.
Worse yet, he realized the family's other car — the one he didn't drive that day — had a winter survival kit in it, but the one he was driving that day did not. All he could do was try to stay warm in the increasingly frigid interior of the car, using a sweatshirt and the floor mats as blankets. To pass the time, he read road maps and the car operations manual. But still, no one came.
Daryl Ritchison, director of the North Dakota Agricultural Weather Network, says his records from Feb. 2, 1989 indicate Stebleton would have been enduring actual temperatures of 30 degrees below zero inside the car, and if he stepped outside the car, it would feel like 50 below zero with the wind chill. (Newspaper reports from 1989 estimated the wind chill those days to be close to 90 below zero, but Ritchison says The National Weather Service changed its wind chill formula in 2001, meaning a better estimate today of the wind chills when Stebleton was stranded would be between 50 and 60 below zero.)