North Dakota's 'R3' coordinator talks about efforts to Recruit, Retain and Reactivate hunters and anglers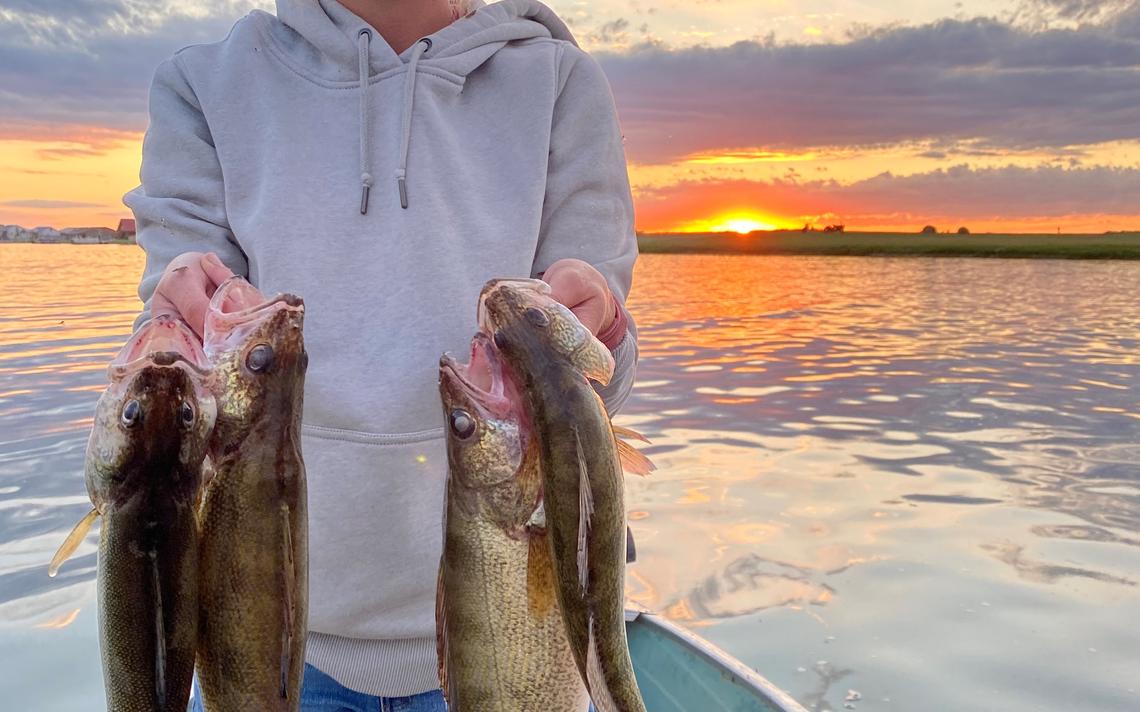 N.D. – A 2011 graduate of Lakeville North High School in the Twin Cities suburb of Lakeville, Minn., Bendel earned her bachelor's degree from the University of Minnesota-Crookston in December 2014 and her master's degree from North Dakota State University in May 2017. She then took a position in Bismarck as Pheasants Forever's Women in Conservation coordinator in July 2017 before joining the Game and Fish Department on Oct. 1, 2020.
Bendel spoke with Forum News Service outdoors writer Brad Dokken about her job with Game and Fish and R3 efforts in the state. Here is an edited transcript of that conversation.
BD: For those who aren't familiar, what is R3?
CB: So R3 stands for Recruit, Retain and Reactivate hunters and anglers. Sometimes, people use it also just talking about outdoor recreationists in general, but primarily hunters and anglers.
There have been nationwide declines in both of those activities and people just kind of being connected to the outdoors, so it's state wildlife agencies and NGOs (nongovernmental organizations) and everyone just kind of grouping together to figure out ways to hang on to the people that we do have, and then also look for ways to recruit new people and reactivate people that maybe fell off or just got busy, had kids, whatever it may be, and get them re-engaged.
BD: How is North Dakota doing in terms of its R3 efforts?
CB: I guess the thing about R3 is the concept of it isn't totally new. Everything we do at Game and Fish – we stock fish to get people fishing, for example – so it's like we're already doing these things, keeping our customer base happy and keeping resources on the landscape.
A lot of that essentially is R3; this is just sort of a new lens of looking at it and trying to measure our efforts and see how the hunter and angler license sales respond to different things, and just some intentional efforts. What's interesting about North Dakota – and will or can be a hard sell – is that we aren't seeing really scary declines yet.
BD: What's the trend with fishing licenses?
CB: It's a little bit tough to tell because we transitioned our licensing sales to online, depending on which license type, about five years ago. Fishing license sales were kind of trending down a little bit from 2016 to 2019, not a scary amount but trending down a little bit, and then this 2020 COVID year, every state saw increases. So, we saw a pretty big increase in fishing license sales last year.
BD: How about hunting licenses?
CB: Hunting license sales were actually trending up a little bit, presumably in response to deer numbers being better and more available tags. And again, (we saw) a pretty decent increase last year. A lot of other states are really hurting and just trying to get license sales whatever way they can, and we're not really there yet.
We are seeing decreases in young people purchasing licenses and increases in the average age of our hunters. We kind of suspect, like other states have, that people are starting to age out and are not being adequately replaced. So, it's more about working now to secure a future hunter and angler base.
BD: As R3 coordinator, what does your job involve?
CB: I coordinate with other states, stay in touch with things that they're doing and having success with. I plan to coordinate with all of our partners and NGOs that we work with in the state to keep them attuned to everything, such as current findings in R3, and help them tailor their outreach events to be effective and meeting target audiences or goals that we have in mind.
I just wrapped up meeting with a bunch of our different divisions and sections (in the Game and Fish Department) to get a feel for where we're at and what strategies they think might be successful, and I'm going to try to tie that all into a cohesive plan for us for the next five years.
It's just staying in touch with everyone in our agency and keeping R3 at the forefront of their decisions.
BD: On a personal level, what attracted you to the outdoors and what kept you involved?
CB: In the R3 world, we call it a traditional pathway, in the sense that my parents and primarily my dad introduced me to hunting and fishing at a pretty young age and I just grew up spending a lot of weekends doing that.
BD: Of the three R's, which present the biggest challenge?
CB: I guess I would say reactivation is a nut that nobody's really cracked, and that also feels like the one that kind of gets underlooked. Sometimes, people maybe in that category just aren't in a place to be reactivated. It just can be a difficult one to specifically target.
BD: Providing a support system, especially early on, seems to be a huge factor in getting people involved.
CB: Definitely. Something we've learned over the last years is a lot of our typical outreach events like a Learn to Hunt event or a Learn to Shoot event or whatever it might be, it was just kind of a one and done event, and so we're learning those weren't very successful.
If you try anything one time and you don't have continued support in doing it or know someone else to go with or where to go, you're probably not going to continue with it. We're really going to push mentorship because that's going to really be the key is just individual or smaller scale mentorships, where people really have the time to develop into a hunter or angler.
BD: You mentioned young people, but are there other demographics that are worrisome in terms of losing participants?
CB: When we say young people, we're looking at 16 to 29, and that's an age we really want to target, just because I feel like that's when people are developing into the person they're going to be. So much of the past events and just pressure focused on kids, and a lot of those kids are usually kids that already have that exposure. If you go to a Pheasants Forever youth hunt, it's usually chapter members' kids that are attending, so we're not really reaching new people there. Or if you did happen to find a kid that doesn't have those opportunities come to the event and loves it, but goes home and doesn't really have any ability on his own to go do those things, then it's not that successful.
So, we're really trying to push more of that young adult or just adult age, where they have maybe a car and resources to actually continue on doing those things.
BD: What can average hunters and anglers do to help the cause?
CB: I think a couple of things. We're really going to start after I wrap up this plan (on R3 strategies), we're hopefully going to have a lot of marketing around just mentorship and trying to take somebody new if you can.
Another thing is sometimes I feel like it all comes down to just rebranding hunting and angling and making sure it stays relevant moving forward. And so just doing your part to talk about the role that you play in conservation, maybe talking about what hunting and fishing really means to you instead of just posting a dead (fish or animal) picture and saying, "seven-man limit" or whatever it is and (instead) talking about why you participate in these activities and just maintaining a good image for hunting and fishing.
BD: In Minnesota, the DNR has made a really big push to promote the outdoors as something that's for people of all ethnicities. Is that a bigger challenge, and along those same lines, is that something North Dakota is looking at?
CB: Looking to diversify hunters and anglers, I think that's going to be important moving forward, and we want people from all walks of life on our side. The more people we can have that are from different backgrounds, genders, ages, ethnicities or political parties, as long as everyone's on the same page about wanting wildlife conservation, I think we're in good shape.
It's not going to be something we focus on a ton, simply because, unfortunately, we're not that diverse of a state. It's tough for us to target an audience that is pretty minimal to begin with, (but) it's something I'm excited about, and we'll continue to look at opportunities moving forward.
We're certainly going to push or provide more opportunities in urban areas, which presumably have most of our other ethnic populations.
Women would be another target audience just because I think that's a good opportunity for us to start with, not having a ton of different races to work with here.
BD: Anything else that you'd like to add?
CB: R3 could be a tough sell to our current hunters and anglers because resources are really good, money is flush, our numbers aren't declining yet, but we're just trying to be proactive here.