North Dakota landowners, oil industry butt heads over holes in the ground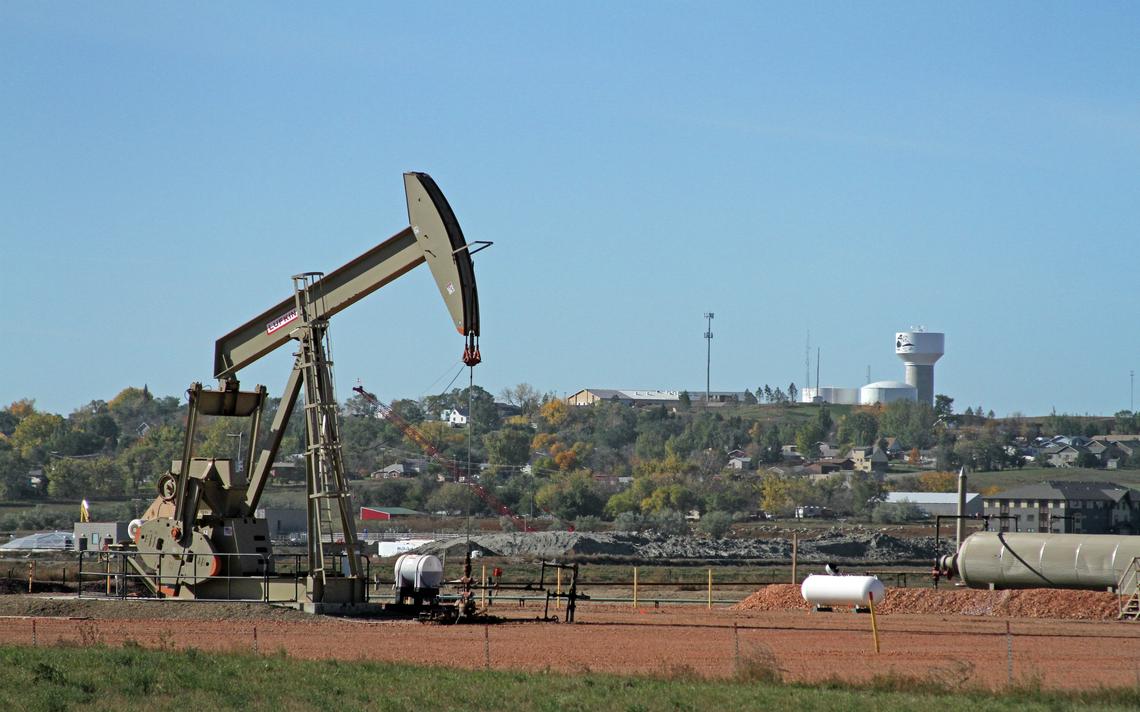 BISMARCK, N.D. — Arguments over a proposal to regulate payments for the use of holes in the ground pitted North Dakota landowners against the state's oil and gas industry this legislative session and could foreshadow lawsuits down the line.
The subterranean cavities known as "pore space" are as old as North Dakota geology itself, but they have lately emerged as the scene of a turf dispute in the state's Oil Patch. Industry officials and North Dakota leaders see the underground reservoirs as outlets to clean up fossil fuel production and unlock lucrative new business opportunities along the way, but that ambition has also brought the state into conflict with some property owners.
With the right regulations in place, North Dakota leaders say, these underground cavities could become valuable vaults for the storage of carbon and natural gas. That practice could help the state cut back on harmful greenhouse gas emissions, while state officials note that it might also open the door to a multi-billion dollar investment from a petrochemical industry looking to take advantage of permissive underground storage laws.
Still, the practice brings North Dakota into the thorny legal territory of subsurface property ownership, where many states have only begun to refine their laws in the last decade.
"It flies in the face of everything this country's built on," said Troy Coons, chairman of the Northwest Landowners Association, a small landholders group that successfully overturned a 2019 pore space law and which has indicated possible legal challenges to a new proposal passed this legislative session. "My personal belief is this is the single largest issue in energy in the world right now, and they're trying to downplay it."
Earlier this year, Coons and the Northwest Landowners earned a landmark win over the state and the titan oil company Continental Resources in a court decision that ruled a 2019 law unconstitutional for denying some property owners compensation for the use of their pore space.
North Dakota officials announced plans last month to appeal that case up to the state Supreme Court, even as a related proposal was rehashing pore space arguments in the state Legislature. This session, a seemingly mundane proposal to create a legal framework for permitting the underground storage of natural gas, Senate Bill 2065, brought renewed opposition from the Northwest Landowners Association, who have argued that this proposal would also unconstitutionally infringe on property rights and minimize payments to some owners.
Following weeks of subcommittee meetings hashing out differences between the landowners and industry officials, the bill was approved by both legislative chambers and signed into law by Gov. Doug Burgum last week.
And for some representatives from the oil industry, the legislation should have been uncontroversial. Ron Ness, president of the North Dakota Petroleum Council, likened the use of these underground cavities to the flight of a commercial airliner — Delta doesn't pay you to fly through the airspace above your home, he noted. And Ness argued that the regulatory framework outlined in this session's bill would actually offer a windfall to landowners, who could get payments for otherwise valueless cavities beneath their property.
"This bill merely establishes that process," Ness said. "They blew this pore space issue up, and all of a sudden it became a contentious issue."
Underground oil and gas storage can cover a large land area overlapping with multiple properties, and the bill outlines procedures to move forward with projects in the case that some landowners aren't on board. Under the terms of the bill, a project gets a greenlight with the consent of generally 60% of landowners involved. Provisions state that landowners who haven't agreed to the project would still be "equitably compensated" at a level approved by state regulators — phrasing that the landowners argue leaves a lot of room for interpretation.
"What we're seeing is, the industry is trying pretty damn hard to stop the precedent from going in that direction, where the landowner gets paid," said Derrick Braaten, a Bismarck attorney representing the Northwest Landowners.
And though Braaten said this year's proposal is "light years better" than the pore space law passed in 2019, his side still takes issue with several pieces of the final version. By using the term "equitable," Braaten noted, lawmakers worked around precise language in the North Dakota Constitution that would have granted nonconsenting property owners certain rights in the process of appealing their set compensation, like the right to a jury trial. Lawmakers nixed that particular demand, saying that the lengthy jury trial process would delay the start of projects to the point of killing them.
With many companies turning their attention to carbon storage in an effort to combat climate change — and with a lot of federal funding to back those efforts — the esoteric field of pore space regulation could be a recurrent point of contention in the coming years.
"States, to some extent, are competing against each other as having the most favorable regulatory framework to attract investment that could be encouraged by those (federal) programs," said Tara Righetti, a professor at the University of Wyoming College of Law and a leading expert in pore space. Still, Righetti, who consulted Braaten and the Northwest Landowners on the natural gas storage bill earlier this session, said she sees these as resolvable disagreements that could allow for win-win opportunities if states can find the right balance.
"I think the interest in using pore space is only going to increase," she said. "So the impetus for project developers and legislature to figure this out is only going to get bigger. I don't see it as going away."
But in North Dakota, opposition from the Northwest Landowners could mean the state's newest pore space law sees another lawsuit as soon as a landowner feels that they've been unjustly compensated for underground storage on their property.
"Nobody should be surprised if it goes to litigation, I'll put it that way," Coons said.
After several weeks of subcommittees refining language in the proposal, the bill prompted extended debate on the House floor before being approved by the chamber. Rep. George Keiser, a Bismarck Republican who chaired the subcommittee on the bill, urged colleagues to vote it through. The two sides weren't going to find any more common ground, he said, and lawmakers were confident that the final version would hold up to a legal challenge.
"Unfortunately we do end in court on some issues, and this may well be one," Keiser said.