North Dakota and Denver Square Off This Weekend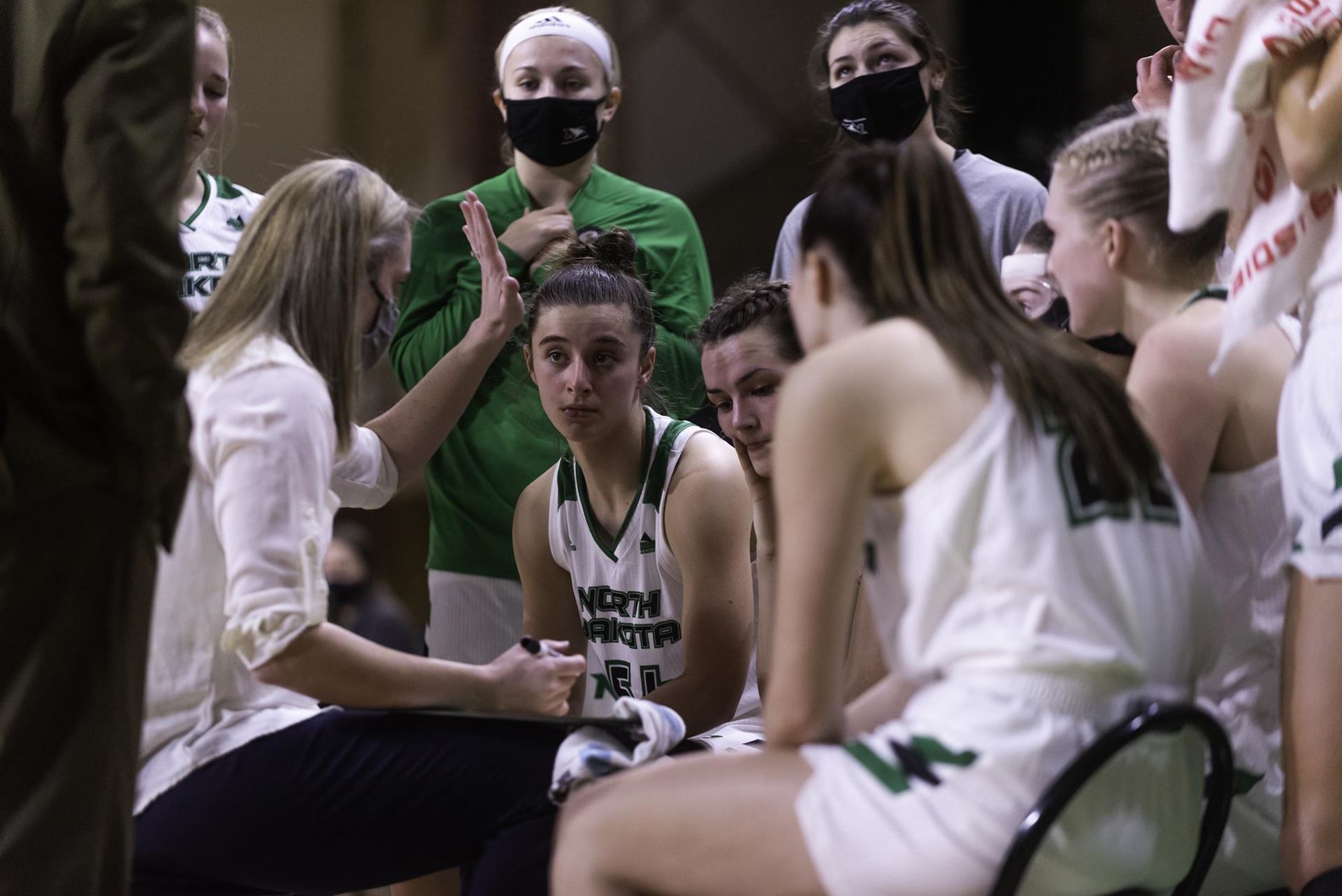 N.D. – North Dakota split with Denver in 2020, shooting 51.6-percent in the Summit League opener (32-for-62) at Magness Arena to defeat the Pioneers, 90-82.
*Julia Fleecs was named Summit League Player of Week on Monday, the first such honor of her career.
*Fleecs is the first UND player to earn the award since Jaclyn Jarnot on Nov. 25, 2019.
*Jarnot recorded two double-doubles last week against Western Illinois, a career first for the junior.
*UND outrebounded WIU 57-30 in its win last Friday, its best margin in a conference match since Feb. 23, 2019, versus Denver.
*North Dakota leads The Summit League with 42.4 rebounds per game and is the only League team with an average over 40.
*The Fighting Hawks also lead The League in blocked shots per game with 3.9 per game.
*Mikayla Reinke is second in The Summit League in assists with 3.7 per game.
*The University of North Dakota has played three overtime games this season, tying for the most in a single season in UND history (2016-17).
ON TAP
Earning its first weekend split of the season at home last weekend against Western Illinois, the University of North Dakota will hit the road Magness Arena at the University of Denver to take on the Pioneers Feb. 5 and 6.
SCOUTING THE PIONEERS
Denver enters the weekend series 4-10 overall with a 2-4 clip in The Summit League. The Pioneers were last in action on Jan. 23 at North Dakota State, splitting the series with the Bison with a 62-60 win in the series opener. DU canceled its series with South Dakota State last weekend after a series of positive COVID-19 tests. Denver also won its series opener against Oral Roberts 89-71 to open 2021 undefeated. Though it averages just under 70 points a game (69.9), Denver has one of The Summit League's most potent offenses, with three scorers averaging double figures led by Meghan Boyd and Uju Ezeudu's 14.2 points per game. Anna Jackson rounds out the trio of scorers with 10.4 points per game. The Pioneers are also efficient scorers, shooting .407 from the field while leading The Summit League in three-point field goals per game (8.6).
FOLLOW THE HAWKS THIS SUMMIT LEAGUE CAMPAIGN
Fans can follow the University of North Dakota women's basketball team for the remainder of the season by listening to Jack Michaels' radio call on 100.3 FM The CAT in Grand Forks. Fans can also watch North Dakota's series South Dakota (Feb. 13-14) on MidcoSN or MidcoSN2 with Alex Heinert and Val (Sannes) Sussex '09 calling the games. Visit FightingHawks.com for up to date broadcast schedules.
NEXT UP
North Dakota will return home for its final home series of 2021 when it hosts South Dakota on Feb. 13 and 14 at noon, hosting its pink game on Saturday and Senior Day on Sunday.