NDSU Student Nurses of the Year named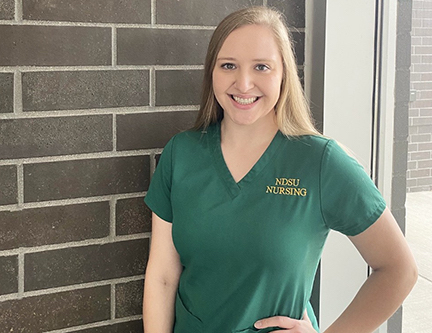 MINOT, N.D. – Meghan Friese and Emily Omvig were recently selected as Student Nurses of the Year by the NDSU School of Nursing.
Friese was named at Sanford Health in Bismarck and Omvig earned the honor in Fargo.
"Meghan dedicates herself to serving and representing the nursing profession. She is professional and respectful with her interactions with peers, faculty and professional nursing staff," said Charys Kunkel, director of the NDSU School of Nursing at Sanford Health.
Friese recalls how an interaction with a nurse started her on the path to her career. Her 3-year-old sister was hospitalized on the same day her father was deployed to Iraq.
"I stood with my tiny combat boots, gripping the stick of a small American flag, confused why she was still adorned in a hospital gown—and his deployment was merely an hour away," Friese said. "The kind words of a saint would help us through one of the hardest days we have ever experienced as a family. That saint happened to be a nurse, and she has led me to this amazing profession."
Friese is a National Honor Society member, National Society of Collegiate Scholars member, recipient of the Amber Des Roches Memorial Scholarship and the Bismarck Hospital/Med Center One/Sanford Nursing Alumni Scholarship. She plans to graduate in December 2021.
Omvig's drive to go into nursing started early.
"With a nurse for a mother and a pharmacist as a father, the hospital was never too far from my mind," she said. "Growing up, my older sister and I never found much of an interest in Disney Channel or Nickelodeon, but we could spend hours watching the Discovery Health channel."
Omvig served as a peer mentor in the nursing skills lab, led study sessions, assisted with COVID-19 screening and served in leadership of the Nursing Christian Fellowship organization.
"Some of the time I spent working as a CNA was on the same unit that my mother works on. I was able to see firsthand just how rewarding a nursing career can be, watching my mom become uplifted in the process of uplifting others," Omvig said.
She plans to graduate in December 2021.
Friese and Omvig are both from Bismarck, North Dakota.
The NDSU School of Nursing in the College of Health Professions provides bachelor's and graduate nursing education. Programs are available for part- and full-time students, working professionals and individuals seeking online educational opportunities.
As a student-focused, land grant, research university, we serve our citizens.