Minot's Blessed Pets provides food for pets in need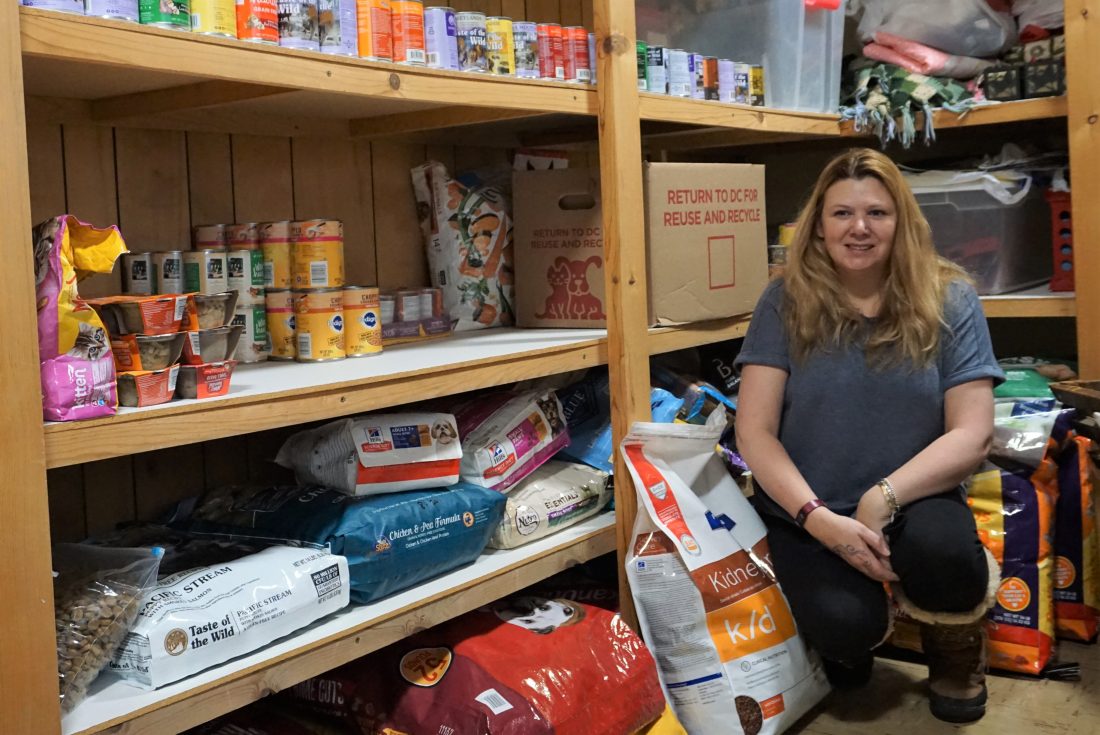 MINOT, N.D. – A new food pantry in Minot is blessing the animals.
Blessed Pets is the ministry of Toby and Emma Phillips, who started the pet food pantry after seeing the impact this past year's economy was having on pet owners.
The Phillips', who have a dog and cat in their home, experienced a drastic change in income themselves, so they know firsthand the difficult situations people can find themselves in. They also have been familiar with pet food pantries because of Toby's involvement with a food pantry that included a pet pantry in Fort Worth, Texas, where they lived before moving with the oil industry to Oklahoma and eventually Minot in 2018.
It was during their own financial struggles that they realized others in Minot needed a pet food pantry. In talking with animal shelter staff, they learned that people were giving up their pets because they couldn't feed them, Emma Phillips said.
"I felt God give me a bit of a nudge, and I said, 'OK, we need to do it, and we need to do it now.' So we went to Tractor Supply and we spent our last $50 on pet food and just started putting it out there," Phillips said. "Our first week we helped 41 families."
That number eventually rose as high as 115 families a week from around the Minot area. In response to outlying needs, the pantry is branching out to Bismarck, connecting with soup kitchens there to provide them with pet supplies to distribute.
"We don't care where you come from, what your background is, You don't need to give us your ID. You don't need to fill out forms," Phillips said. "We're here to just help you – your pets really. And that's it."
She stays in contact with many of the pantry's clients to make sure they are adequately supplied.
"We're making some good friends doing this," she said.
Phillips is completing an online study of the psychology and behavior of animals as a prerequisite to taking courses to become a veterinary assistant.
"I've always worked with animals – always. I've worked at dog kennels, animal shelters. We had a big ranch, horse stables, in Fort Worth, Texas, where we boarded about 30-40 horses," she said.
Toby Phillips is from Texas, and he and Emma, who is from England, met online. They married in 2015 and have a 3-year-old son, Connor, who likes to help with the pantry operation, too.
Toby Phillips currently works in the restaurant industry and enjoys volunteering at food pantries and soup kitchens. He had managed a large food bank in Fort Worth.
"Since I married him, we've always been in food ministry," Emma Phillips said. "I didn't know anything about food ministry until I came to this country. It's a huge passion for him, and he doesn't like food waste. He'd rather see companies give it to soup kitchens and food banks."
The couple has a similar passion for their pet food pantry.
Blessed Pets operated out of the Phillips' home initially. Cornerstone Presbyterian Church now provides storage for supplies.
The pantry distributes food in weekly portions to local residents and large bags to those who must travel to Minot. Pet treats typically are part of the food package.
Blessed Pets provides cat litter, but the pantry ensures Souris Valley Animal Shelter is supplied before distributing to pantry clients.
For assistance or to donate to the pantry, call or text 818-0545 to arrange delivery or drop-off. More details are available on the Blessed Pets page on Facebook.
While Blessed Pets is not currently taking cash donations, it will take gift cards for pet supplies. The pantry also has reached out to receive donations from retailers and manufacturers of pet foods.
Emma Phillips said the biggest immediate need is for cat food, especially for kittens. Blessed Pets takes all brands and tries to keep a variety of foods, from grain-free to special needs, on hand.
"My dream for this is to make it bigger," Phillips said. She envisions having a van to take the pantry on the road to area communities and possibly other areas of the state. She would love to offer free to low-cost vaccinations, microchipping, spaying and neutering at some point.
She also would like to serve a broader range of pet types, including horses. Although Blessed Pets doesn't currently carry supplies for horses, it did respond to one horse owner in need by providing some feed.
"We try to help everybody with everything," Phillips said. "Pets are important to people."