Minot High's Knudson realizing college dream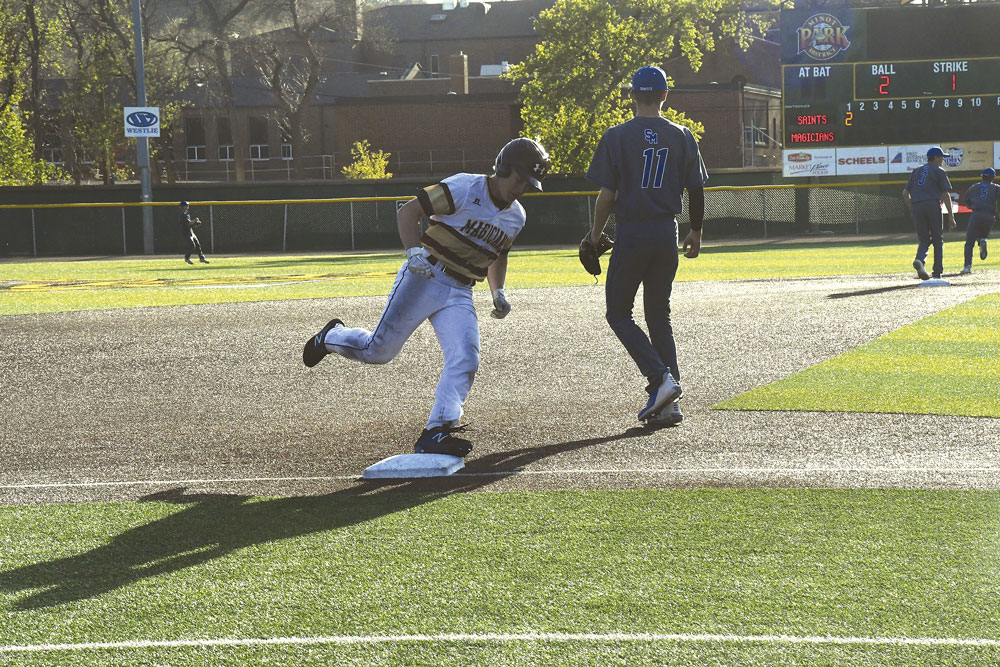 MINOT, N.D. – Graduating Minot High senior Madison Knudson's long and, at times, frustrating road through high school hockey has finally reached its peak.
The 2020 Majettes hockey "grit award" winner announced on May 1 her commitment to play and study at Curry College in Milton, Massachusetts this fall, and she could not be more thrilled to have achieved this milestone after the journey she took to get to where she is.
Knudson finished her high school career as a center for a Majettes team that finished its 2020-21 season with a 3-2 double overtime defeat at the hands of Grand Forks in the state quarterfinal, but she did not begin it that way.
During her first two seasons at Minot High School, Knudson was a goaltender who did not see much time between the pipes. Amber Borkhuis, also a graduating senior, had the position locked down, forcing Knudson to the bench for the majority of the season.
During the 2017-18 season, Borkhuis played just over 22 full games for the Majettes, recording an 85.2 save percentage and earning 12 wins. Her outstanding performance couple with her relative youth inspired hope for the immediate future of the program, but it left only three-plus games in net for Knudson.
"It was just really mentally draining not being able to help my team out and just sitting," Knudson recalled. "I was a skater a couple of times in middle school, so it was just more helpful for my team, and I want to do what's best for my team."
She made the difficult decision to abandon the position to which she had grown accustomed for the overall benefit of her team, and physically working though the transition was equally as challenging.
"It was really hard, mentally and physically," she said. "You use a lot of different muscles, and it took a lot of time out of my two summers to get that transition. Honestly, the people around me helped make it happen, especially Jason Blackburn, and Dean Aberle at Homesteaders Restaurant. He helped me make it to a bunch of camps, and I couldn't have done it without him, he made it way easier."
Aberle, a family friend who Knudson described as a father figure to her, and Blackburn, her trainer at Optimum Performance Training, were instrumental in addition to her Minot High coaches MaKayla Neuhalfen and Chris Stokke in shaping Knudson to become the skater she is today.
Knudson finished with six points in the 2019-2020 campaign, her first as a full-time skater in high school. She did one better this year, scoring two goals and adding five assists to give her seven points on the season, good for a three-way tie for fifth-most on the team.
Her performance on the ice throughout the year caught the eye of Curry College's women's hockey program, and head coach Kelly Ryder reached out to her Feb. 11 after watching the Majettes' 4-3 overtime loss to Bismarck High School Feb. 2.
"I actually didn't know about Curry College before the season. They actually watched my Bismarck game on stream and they reached out to me," Knudson said. "The way [Ryder] talked to me, she believed in me and she really wanted me to be on her team. She said she sees a lot of potential in me."
Her time at Minot High School had been incredibly meaningful to her, and one of her favorite parts of being a member of the Majettes hockey squad was inspiring greatness in her teammates. She hopes taking her next step will continue to do just that.
"It was a really big part of my life, and it meant a lot to me," she said. "There are a lot of girls right now who don't believe in themselves, and the fact that I am going to college for hockey is really impressive, especially because I was a goalie, that it's giving a lot of other players hope. That really means a lot to me, inspiring and pushing other players to go past high school."
Knudson has plans to move Massachusetts in mid-August, and cannot wait to begin an adventure she had been dreaming of for years.