Magicians targeting postseason success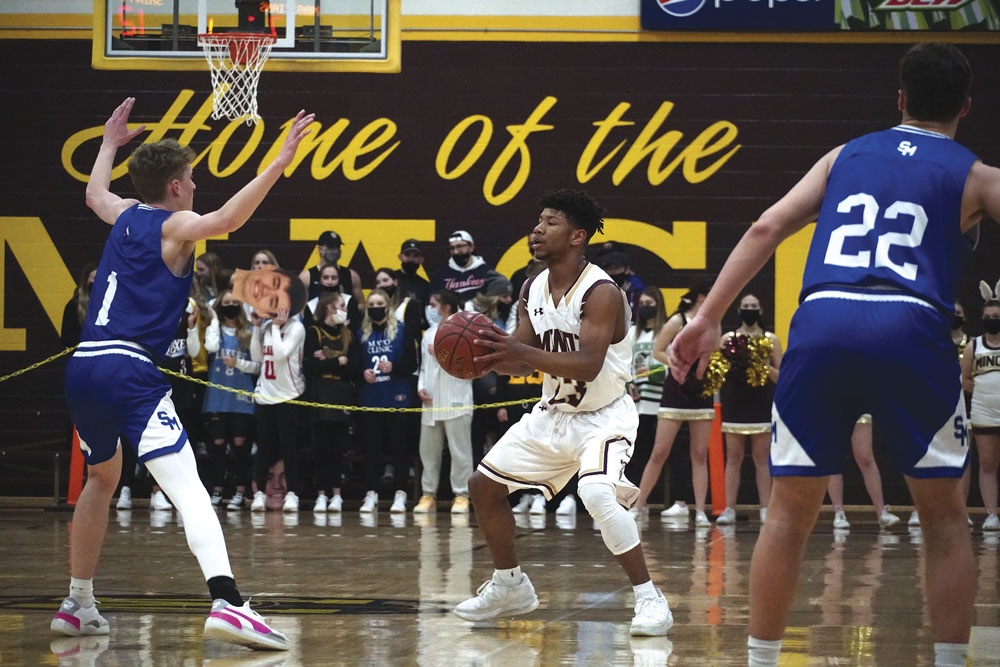 MINOT, N.D. – Only two words seem fitting to describe the Minot High School boys basketball team's performance through its first 14 games of the 2020-21 campaign.
Utter dominance.
Suffering only one loss in that stretch, a narrow 84-76 defeat at the hands of the Bismarck Demons Jan. 8, the team has proved doubters wrong at every turn.
"Before the season, a lot of people didn't think we were going to come in and have a record like this up to this point," junior guard Eric Wentz recalled. "I think we took it personally. We put our heads down and we worked hard to get to where we are now."
It has been that subtle but unmistakable confidence and determination that has led to the Magicians' success to this point of the campaign. That, as well as impressive numbers contributed by not only the key role-players on offense, but the whole team.
Deonte' Martinez led the team in total scoring (22.9 points per game), field goal percentage (63 percent) and steals per game (1.6) during Minot's first 14 games.
Darik Dissette recently rattled off an incredible 10-0 individual run during the Magicians' Jan. 29 contest against St. Mary's. The 6'3″ sophomore averaged 15.3 points per game through his first 13 contests.
Wentz has also made key defensive plays for his team, and makes his presence felt on offense as well. The junior guard averaged 13.9 points per game through Minot's first 14 games following a 22-point outburst Feb. 2 against Turtle Mountain Community High School.
Head coach Dean Winczewski explained why the trio's performance, with aid from a rock-solid supporting cast, has been so essential to seeing on-the-court results.
"Obviously you lean on those guys to score, but they've also been tremendous defensively," he said. "I think too many times, myself included, as a coach, you look at your offensive players and you sometimes give them a pass defensively. This year, honestly, they've been three of our better defenders."
"Michael Ross has had a phenomenal year," Winczewski continued. "He has stepped up as much as anyone, played under control, and has been a tremendous defender and rebounder. Kade Butz is playing extremely well and making good decisions. RaShawn Wilcox has had a good last half of the season and has found his way. It's really our entire roster of kids that have stepped up at different times."
Upon the conclusion of a midweek practice, Winczewski spoke to his team in a socially-distanced meeting and emphasized the importance of not growing complacent or being satisfied with an impressive regular season record, as well. The team has loftier aspirations, and recognizes that this is only the beginning of what they want to accomplish by year's end.
"It feels pretty good," Dissette said of his reaction to the team's glistening record. "But our job's not finished. We have to keep working, and come and practice with hard work and a good mentality."
Martinez echoed the sentiment. He pointed to the nice feeling that accompanies demonstrating the team's quality to skeptics, but didn't forget his squad's goal of winning in the end and putting its sparking win/loss column to good use.
Winczewski went on to note that no matter whatever happens down the stretch, though, there's successes and building blocks for the future. The coaching staff was able to get 16 students to buy into becoming a family and playing for each other, and that's the most important piece to such an impressive season.
"It's been marvelous to watch them cheer for each other, and the excitement they have for each other is an amazing thing," he said. "We've just got to do little things right and continue to grow on the basketball court. If we do that, we're going to have an opportunity finish pretty high."