Controversial Bastiat Caucus refuses to divulge which elected leaders are members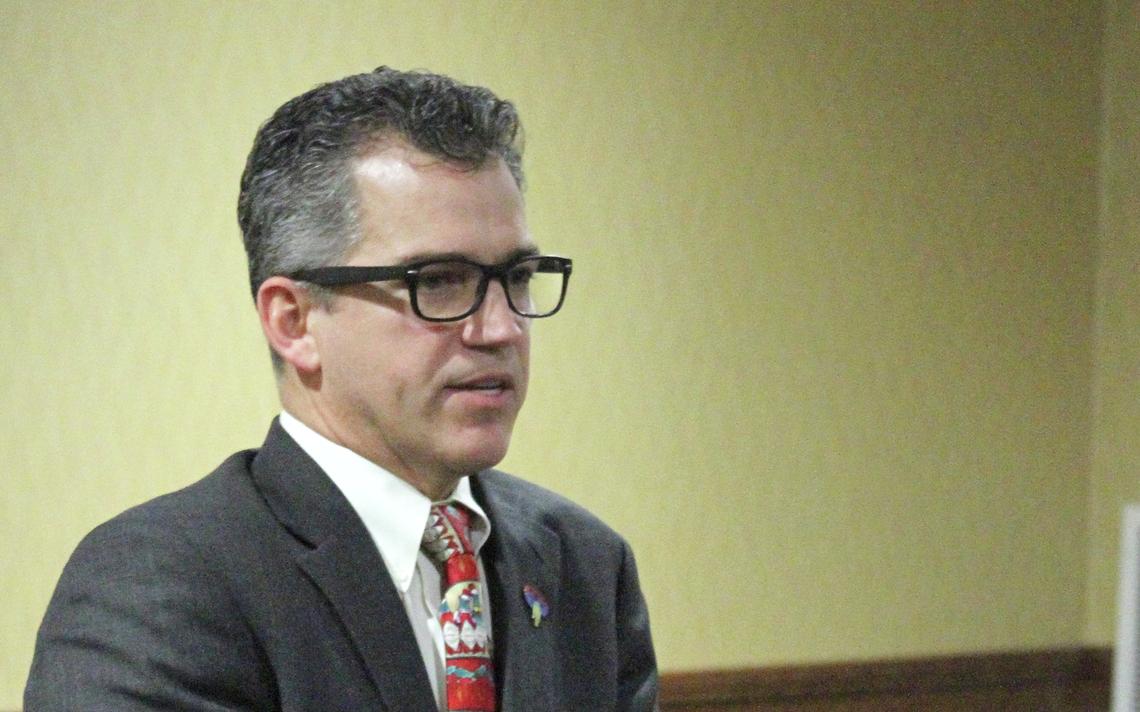 MINOT, N.D. — Recently, state Rep. Rick Becker, a Bismarck-area Republican and founder of the controversial Bastiat Caucus, did what most politicians do when someone shines an unflattering light on them.
They shoot the messenger, in true Trumpian fashion.
It's all the news media's fault, they say.
In a recent column, I wrote that Becker was touting a crazy (I don't use that word lightly) resolution to replace Gov. Doug Burgum's leadership on the COVID-19 issue with a panel of legislative appointees which would also end the state's promotion of masking, somehow replace the work of the Departments of Health and Human Services, withdraw the state from the national vaccination program, and a parade of other insipid initiatives.
He claims I didn't call him for comment, which is false. I called him twice, in addition to texting him.
He claims he didn't promote a write-in campaign for fringe gubernatorial candidate Michael Coachman as a misguided effort to stick it to Burgum, even though he was doing just that on the record for weeks before the election. The effort flopped, and now Becker doesn't want to be associated with it.
He also suggests that the text of the resolution I posted, which I had received from some of his Republican colleagues in the House and Senate, was not his text. That despite the proposal pushing many of the same things Becker has called for publicly in the past, including during his tongue-in-cheek ego campaign for State Health Officer, and the fact that Becker's fellow Bastiat Caucus member, Sen. Oley Larsen, R-Minot, has said he plans to introduce the text I posted in the Senate "as well."
If the text I posted is unfamiliar to the Bastiats, that's apparently news to Sen. Larsen.
Whatever may have happened before my column, if Becker isn't supporting the text I posted now, that's great because it's a stupid idea, and with everything that's going on in the world right now, we don't have a lot of time for stupid ideas.
In his letter, Becker also sought to defend the honor of his Bastiat Caucus, a confederacy of state lawmakers he founded, which is more known for their social media antics than any meaningful advancement of conservative ideas.
To that end, he claimed there are "30 dues-paying legislators in the Bastiat Caucus this biennium."
Is that true?
If so, it would make the Bastiats a significant faction in the Legislature. More powerful, at least by numbers, than the minority caucus made up of Democratic-NPL members who hold just barely more than 20 seats.
Unfortunately, there's no way to verify the claim because the Bastiats won't confirm who its members are.
There are four identified on the group's website — Rep. Dan Ruby (R-Minot), Rep. Tom Kading (R-Fargo), Larsen, and Rep. Ben Koppelman (R-West Fargo) are all named as leaders — and with Becker, that makes five confirmed members.
Who are the other 25? We can make some good guesses based on various lawmakers' public statements, but there's nothing official available.
I called Ruby, who is currently the caucus chair, and his response when I asked if he'd divulge the group's members was, "We don't have to."
"It's not a government committee," he told me.
"If people want to be members but not necessarily listed, that's up to them," he added.
Shouldn't an organization consisting entirely of elected officials be transparent about its membership? Especially if a preening Becker will tout that membership as evidence of his political clout? Treating a legislative caucus as a sort of secret society is extremely unusual. When these groups are formed in other legislative bodies, their membership rolls are disclosed.
If you want to know who makes up the members of the Congressional Black Caucus in the U.S. House, for instance, you need only visit their website.
As far as I can tell, no tax dollars are used to pay Bastiat dues. Lawmakers belong to many organizations, and it's not unusual for the state to pay membership dues on their behalf, but according to an open records request I made to Legislative Council, there have been no payments to the Bastiats, so we can't verify membership that way.
What are we left with then?
The Bastiat membership is either not as numerous as a bragging Becker wants us to believe or is not inclined to associate themselves with the group publicly.
Which is hardly a ringing endorsement of Becker's group, either way.